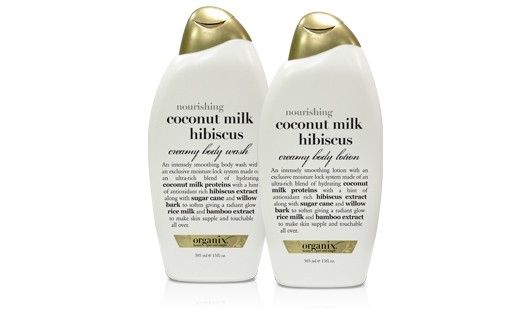 Organix
Nothing smells like summer more than coconuts. They remind us of the beach, suntan lotion and relaxing by the ocean while the waves come crashing in. Organix has created a bath and body collection so now you can have that incredible scent all year round.
Enter the tropical scentedNourishing Coconut Milk Hibiscus Body Wash and Body Lotion.The line is made of coconut milk proteins, hibiscus extract, sugar cane, willow bark, rice milk and bamboo extract. The hydrating formula left our skin feeling hydrated and soft.
Start off your ritual by cleaning with the body wash that works up into a richfoamy lather that gently cleanses, leaving skin with a sweet, exotic coconut scent.
Finish up with a touch of the creamy body lotion that absorbs quickly into the skin and also leaves theskin with asubtle scent of coconut and floral aromas.
The Organix line also includes Healing Cherry Blossom Rice Milk, Hydrating Moroccan Argan Oil and Soothing Teatree Peppermint.
For more information, visit www.beautypureandsimple.com.