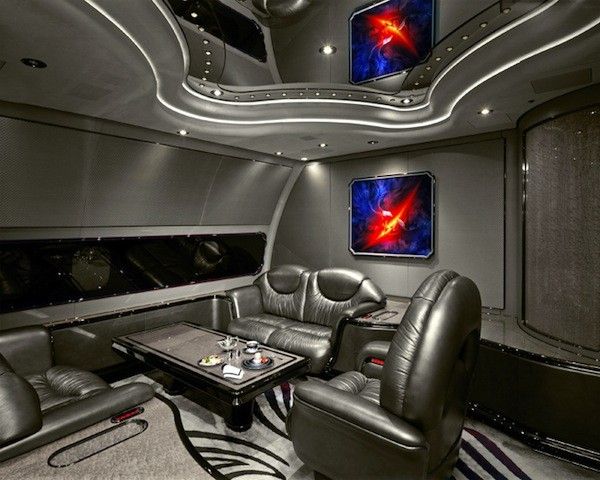 http://www.businessjetinterior
When it comes to the beauty of an aircraft, most people tend to focus on and show the exterior of the craft, and while that can have great designs or coloring chances are if youíve seen one airplane exterior youíve seen most of them. This isnít quite the case with an interior of a plane though. Yes, most commercial flights have similar designs, but what about the private jets; the planes that are more likely to have a special exterior as well?
Thatís why we are going to take a look at some of the most interesting, unique and beautiful aircraft interiors, and most of them are from commercial flights too. A few are personally designed by someone to be custom for a private plane but not all of them. Luxury aircrafts have started to pick up in interest these days, which means more designers have been pushed to figure out even more strong designs. And best of all, they donít just look good, they are incredibly comfortable. And thatís the whole point of luxury crafts.
5. A Little Aerospace
Aircrafts are already about as close as you get right now to reaching space travel, so why not add a little power to that atmosphere by making the interior of the craft a little more sci-fi inspired. This platinum aircraft interior glances at what most jets tend to show on the outside. The fiber glass window section adds that element of making it feel like you are looking out of a shuttle instead of a plane, while also keeping things dark enough if you want to sleep during the day. And best of all is the seating, which is made from one of the more comfortable materials that are still allowable on an aircraft.
4. The New Advancements
How about instead of just the look of futuristic and space design, going for the actuality of what is the most up to date? This plane interior introduced in 2013 as a Casino Jet does just that. It comes with a touch pad to order specific things, as you can see with the blue lights, and a unique lounge set. Some people might question the comfortableness of the chairs by how they look, but they were made for an interactive lounge and you can sink right into them, despite the sharp corners. You also get the shiny metals and designs around the whole lounge.
3. Home Sweet Home
Maybe all the fancy stuff is too much though and youíll jab yourself on those pokey corners. So why not settle down in your own house while in the air? This was another recent introduction in 2010 and prized itself on possessing that home quality that can be so hard to find on most air vessels. Just looking at it brings in that old fashioned appeal of somewhere you can just relax, just donít forget you are still on a plane, so keep those pants on.
2. The Colorful Palace
This one was a personal design for a specific person to change an Airbus into something of a palace, with everything to offer; especially color. This design aimed for sectioned off areas that could feel private but still allow interaction between the few areas if needed. Plus, who doesnít want a built in bar for their aircraft? Unfortunately the comfortability isnít quite as high for the bar area, but they are definitely better than your average bar stool.
1.The Cabin Bedroom
And finally we have the Singapore Airlines cabin bedroom in the sky, which brought in a fully enclosed suite for each group, a personal functioning TV with programs and films to choose from and a twin bed of full size. When this was unveiled half a decade ago, it was a major change for a luxury airliner to offer something that was normally only in private planes. Even today it still isnít seen all that often, which is why their prices run higher, but you do certainly get quite the welcome too.†
Alan Carr is an avid aviation aficionado learning about the aspects of the flying world from the business to the technical, while also frequently writing on what he finds. He currently works with globalair.com to provide resources on aircraft related information.
http://www.businessjetinterior
The New Advancements
http://www.businessjetinterior
Home Sweet Home
http://www.businessjetinterior
The Colorful Palace