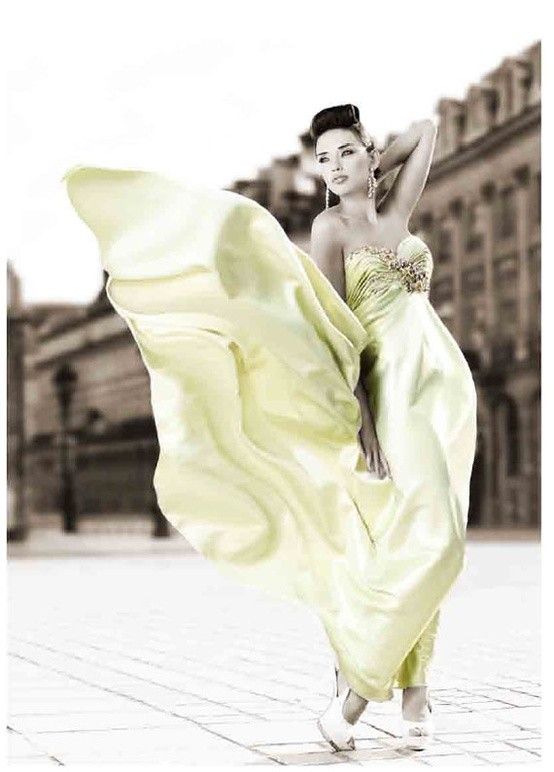 For years, money created a co-depedence between the entertainment, fashion and lifestyle industries, but outstanding fashion designers, Nabil Hayari and his partner Hugues Alard, took no prisoners in getting their creations and creativity established in their Parisian Atelier. This kind of passion is what is missing so often in our World today. One should not underestimate the best designers the World could ever had. These Fashion and Lifestyle Moguls are Power Players in the Entertainment industry, as well as the World of fashion and they are tireless and never out of style. The work done in this Atelier are mostly Timeless, Flawless, and an Eternal Paradise for many women. Hayari House is sure to serve up gorgeous pageant dresses, beautiful wedding dresses, and adorable evening gowns.




During the Mrs. International Beauty Pageant 2012, which was orchestrated by Mel and Mary Richardson in Chicago, Illinois, l was privileged and Honored to showcase one of the most Gorgeous pageant wears ever. Hayari House designed a Haute Couture gown for me, and l was able to compete with 55 gorgeous women from all walks of life. Onething, l must say about the HAYARI gowns, is the comfort level is superb. Nothing compares with the feeling of comfort and contentment you get from an extremely flambouyant gown. l could stroll, glide, and dance, infact l could basically do anything l want in that haute couture gown regardless of the complexities of the designs!

The picture shows me in the middle wearing my Gorgeous Hayari Couture gown with my fellow contestants!!






During the Mrs. International pageant competition 2012.
l was at the far back with these extraordinarily Gorgeous women!




The picture below depicts former Mrs. Globe, Alisa Krylova dressed up in one of my favorite Hayari couture gowns.......!



In May, Hayari House of Paris stood tall basking in the applause of the international audience at Cannes Film Festival. Now Cannes has come and gone, but it turns out, Hollywood celebrities is still eager to get into Hayari World. Hayari House earned some good reviews during the film festival when Celyne Durand, a French actress dressed up in Hayari's Nude and sexy dress glided down the red carpet. The fashion TV actually nominated the dress as the best Red Carpet dress of 2012! Since that memorable event there has been a lot of interest on the House of Hayari.

Celyne Durand in a flawless red and sexy Hayari Couture dress!





The Guru himself, Nabil Hayari and former Mrs. Globe Alisa Krylova!



You don't need to get too far inorder to be knocked out by the extraordinary designs from the incredible mastercraftsman himself. l believe there is a sure reward to those who take time to explore the many treasures of Hayari House of Paris! Rarely do you find any designer that's different from every other designer, but these fashion moguls have proved that there is no undertaking too tough for any human imagination. l am still restless in expanding the boundaries and horizon of the Hayari House of Paris. These men have taken spectacular measures in distinguishing themselves among their peers. All l know is the Hayari World is Redefining the fashion industry in a single Word, "Excellence" and that is breathtaking!



The most glamorous and memorable moments from a fashion house is demonstrated in both pieces of fabrics and bottles of parfums, how nice could that be.......Curb your enthusiasm for l am not done yet. In the picture below, Alisa Krylova, former Mrs. Globe established the unity of the parfums and the dresses, just like the marriage between a man and a woman with her signature pose, as you can see!!






The uncontested perfumery, with three high quality fragrances, "Only for Her," "Broderie," and "Goldy," are amazing. In these extraterrestial parfums you' ll find a range of handicrafts designs done by the mastercraftman himself. There is an easy flow to the story behind these fragrances that made Hayari parfums stand out!!











If there's a better trio of parfums in the perfumery industry than, "ONLY FOR," "BRODERIE," and "GOLDY" or a stronger ensemble overall, you'd be hard-pressed to find it. All l know is these terrible trios are the most outstanding parfums of all times! This is easy to take but hard to believe, in the World of cubic zirconium Hayari Parfums are the only real thing trust me on this!!






The chance to create something is always a special opportunity. Beyond the Parisian Atelier lies the Outstanding parfums. The artwork itself is inspiring, meaningful and gritty. The extraordinary contributions the Hayari House have brought to the World of Women will be long remembered, and the passionate creativity will never cease in the lives of countless women out there. These gorgeous fragrances will forever leave a lasting impression on all of us who actually use it.
It's always nice to be honored for a work well done, at this moment, l want to give my heart felt congratulations to these two Moguls, Nabil Hayari and Hugues Alard!!

Contacts:contact@hayari-couture.com
contact@hayari-parfums.com
Website: www.hayari-couture.com
www.hayari-parfums.com