Photo Credit: Kauai Shores Hotel, Hawaii
There are Happy Hours galore, each with its own special flare. Then there are the "Happiest Happy Hours," those that truly deliver a bang for their buck and alter the mood of the day. They offer exotic settings and innovative menus designed to pick you up after a long nine to five, and they never fail to send you on your way with a big smile. Such spirits as pure fruit purees, top shelf house-infused vodkas, and single malts rule the day, while standard finger food gives way to Kobe beef tacos and tuna tartare. Move over nachos and cheese and stand back domestic beer. Clear the way for the new wave of Happy Hours!

Photo Credit: Le Place d'Armes' Hotel & Suites
Bordering the city's center and Old Montreal, this posh hotel's restaurant and lounge, Suite 701, is all about a good time. An extensive cocktail list includes five signature martinis. Try the sweet Basil Raspberry Martini, or a Cucumber Bash with Bombay Gin, cucumbers and cranberry juice. Devour such delectable appetizers as grilled octopus, polenta, corn and fingerling potatoes, or homemade parmesan fazzoletti, wild mushroom ragout, arugula and parmesan shavings.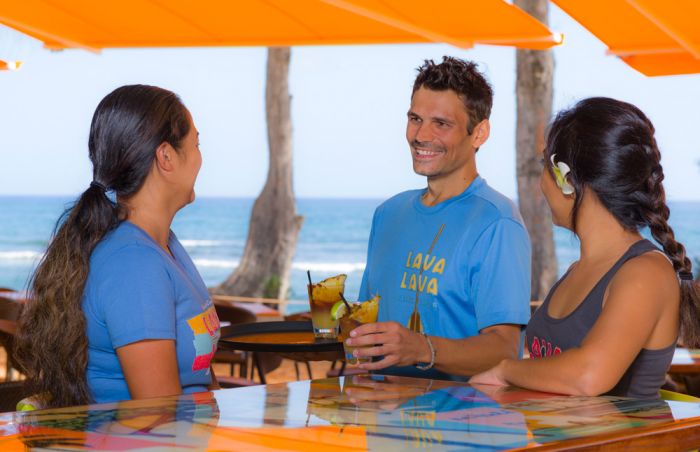 Photo Credit: Kauai Shores Hotel
Guests of the festive "Toes in the Sand Happy Hour" at the Lava Lava Beach Club at Kauai Shores Hotel can sip cocktails while enjoying the soothing sounds of the Hawaiian waves. Savor a Gilligan's Girl of coconut vodka, ginger liqueur and Hawaii's famed pineapple juice. Please your palate with a Loco Moco of local beef patty, mushroom gravy, sliced egg and white rice, or a Club Med Plate of hummus, tapenade, cucumbers, tomatoes and grilled pita.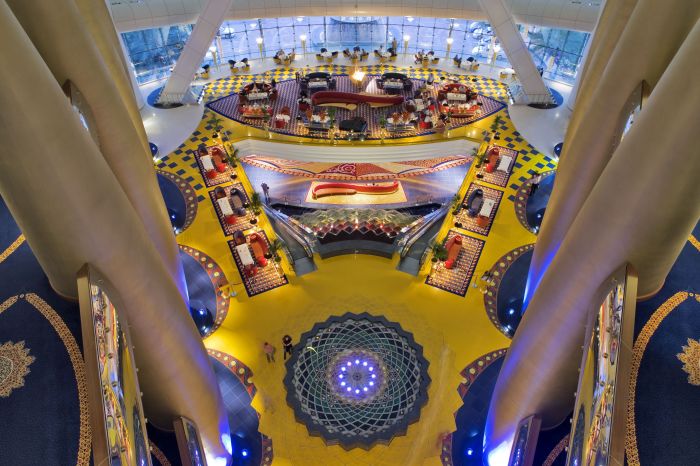 Photo Credit: Skyview Bar at Burj Al Arab Jumeirah
Jet setters gather at the Skyview Bar at Burj Al Arab Jumeirah, which soars over 650 feet in the sky on the 27th floor. Expert mixologists serve up a creative cocktail menu. The Revolution contains Havana 7 Years Rums, cherry liqueur, champagne, lemon juice, pineapple juice, and homemade White Pepper Syrup. Signature menu items include Angus Beef Mini Burgers, crispy prawns and Arabic Mezzeh. Floor-to-ceiling windows at this bar in the clouds afford guests spectacular views of the Arabian Gulf and glimmering downtown Dubai.
Photo Credit: Malliouhana Resort, Anguilla
Happy Hour enthusiasts can congregate in the fun-filled Sunset Lounge for its thirst-quenching mojitos and sangrias. True revelers will appreciate the resort's collection of more than 60 rare rums and availability of rum tastings with the on-site "Rummelier." Premium sipping-rums featured include Angostura 1824 Limited Reserve from Trinidad & Tobago, El Dorado Special Reserve 21 year-old from Guyana, Appleton Estate from Jamaica, and Diplomatico Vintage 2000 from Venezuela. The fresh, sea-to-table offerings feature seasonal specialty dishes that can include octopus and home cured local red snapper.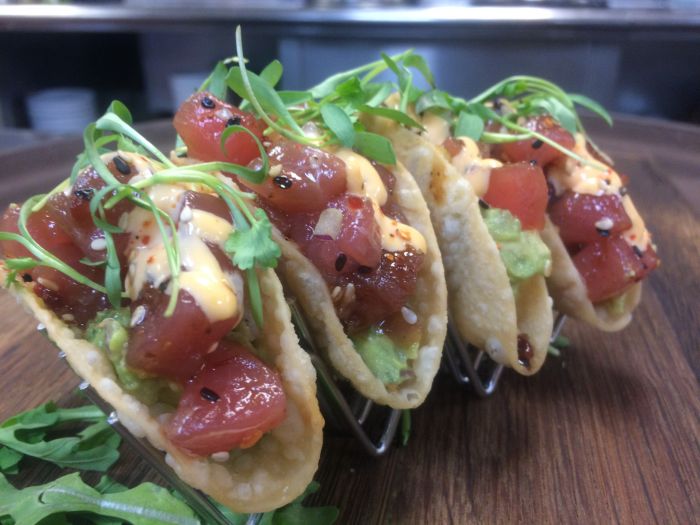 Photo Credit: Kona Kai Resort & Spa, San Diego
Kona Kai's Vessel Restaurant offers a freestanding Happy Hour venue with New American cuisine served in a casual, elegant atmosphere. The regional coastal fare incorporates local, seasonal and sustainable ingredients. Craft brews include Big Sky Brewing Moose Drool Brown Ale and Purple Haze Raspberry Wheat, which are paired with grilled fish tacos, lobster quesadillas or "The Big Kona Burger." The restaurant also features a stunning outdoor patio perfect for sipping a tantalizing cocktail such as ananti-oxidant mojito with beach bar rum, lime, pomegranate juice, raspberries, blueberries and mint.