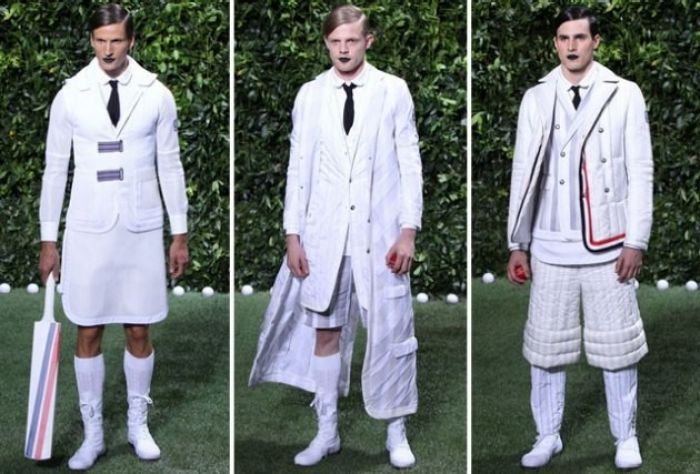 Image via vanityfair.com
I'm all for gender neutral clothes. Don't misunderstand: I'd never be caught dead in them, but you know what, if men's fashion isn't your thing and the pretty pink dress in the department across the store is more your style, go for it. This affront to all things fashion cannot be allowed to continue, however. Whoever called this "sexy" needs to slapped, or possibly lined up against a wall to protect the industry.
Earlier this week, Thom Browne exhibited a little something for everyone at Moncler Gamma Bleu's lauded, cricket-influenced presentation in Milan. Working in a monotonal range of textures, fabrics, and patterns, the longtime ankle advocate dressed his army of spring-2014 models in club collars, spotless white cleats, and sexy-meets-sooty jet-black lipstick. Suffice it to say: we're smitten.
Still, less sophisticated fashion folk might not appreciate the versatility of Browne's bold offering. Do you too suffer from such small-mindedness? (Read More)