TONI&GUY
I last visited the hairdresser over six months ago, just before the birth of my younger daughter, so, needless to say, my mane was in pretty desperate need of attention. I decided to visit the TONI&GUY Kensington salon. This particular branch of the renowned global chain first opened in 1991, and has continued to flourish with success and creativity over the ensuing three decades. It forms part of a worldwide network of over 400 TONI&GUY salons, a business that has an illustrious heritage, having grown from a single salon in Clapham in 1963 into the internationally acclaimed brand that it is today.
It's a brisk but not overly busy afternoon at the salon, and I am welcomed warmly upon arrival by Chloe, the lovely salon manager. I am here for half a head of highlights and a cut and finish. All the essentials are in place. Bright and airy – check. Trendy hairdressers with gorgeous haircuts – check. Shiny floor – check. You get the picture.
I'm shown to my chair and offered complimentary drinks as I am introduced to my delightful Colour Technician, Phoebe. I show her some photos from magazines to give her a sense of what I am hoping to achieve in terms of my color. She takes everything I say on board, explains how she will achieve the result that I would like, and goes off to mix the color. Harriet, who will do my cut and finish, then comes over to discuss my goals, and we talk about how much needs to come off (quite a lot after half a year of no salon visits!) and how best to achieve the face-framing fringe that I am keen to attain.
Phoebe and Harriet are both young but full of poise and confidence. They are very attentive, and genuinely listen to what I want during our pre-color and cut consultations. Each of them has been at TONI&GUY for over five years, and did their training at the TONI&GUY academy. In fact, Phoebe explains, almost all of the hairdressers at TONI&GUY have risen up organically through the ranks. The training is rigorous and extensive, lasting around four years. Any senior professionals who are recruited from other salons are required to spend six weeks 'vardering' – learning the specific methods employed by TONI&GUY professionals across the world. I find this level of standardization and professionalism extremely reassuring; it means that if you turn up to a salon in, say, Maidenhead, you can be sure that you will have a very similar experience at a TONI&GUY salon as you would do in Mayfair.
Phoebe has been with the company for eight years, she tells me, as she deftly applies color and foils to my hair. It seems that part of the company's appeal is the loyalty it inspires from its staff. One of the differentiating features of TONI&GUY is the separation between stylists and colorists. This, it seems to me, is a bonus for the client, as each aspect of hairdressing is handled by someone who has truly specialized in their particular area of focus.
Phoebe is incredibly thorough (I love the fact that she applies color as close to the root as possible), and finishes my foils in around an hour, after which time I am settled into a chair with a pile of magazines whilst my color develops. I am then shown to the most amazingly comfortable massage chair at the HAIRSpa area, and a lovely gentleman named Lucas washes my hair and applies a host of different products to my hair. First comes toner, then a two-stage Olaplex treatment, which powerfully injects some much-needed moisture into my hair. After this, Lucas applies TONI&GUY's proprietary and divine smelling new label.m Scalp Soothing Snapshot treatment to my hair to nourish my scalp, enhance the shine and prevent any scalp irritation post color treatment. He explains that there are four different Snapshot treatments available, each with a different, self-explanatory focus (Volume Boost, Colour Revive, Damage Control and Scalp Soothing). My hair feels unbelievably sleek and smooth which I can only attribute to this particular combination of treatments.
Harriet comes over as soon as I arrive back to my chair and wields her scissors with seasoned efficiency. I really appreciate the seamless transition between the stylists; I am never kept waiting during the entirety of my time at the salon. Harriet suggests cutting my fringe after blowdrying my hair, which seems like a good strategy. The cut and finish perfect: Harriet ingeniously generates some serious bounce and body into my hair - no mean feat, given the candy floss fine state of my post-partum mane.
Throughout my time at the salon, I felt confident that everyone appreciated my desire for great-looking hair that is both subtle and, crucially (with two children under two), low maintenance. I was absolutely delighted with my cut and color, and would unhesitatingly recommend the salon to anyone looking for a fantastic hair experience. I was so impressed by the label.m Snapshot treatment that I decided, on Phoebe's recommendation, to take home the label.m Thickening Shampoo and Conditioner and Protein Spray, which is used on all the models at London Fashion Week.
I shall certainly visit again. I am also eager to pay a visit to TONI&GUY Windsor, which has been given a sumptuous upgrade to celebrate the occasion of its 30th birthday in December 2019. The salon feels like a lifestyle space rather than hairdressers, and, especially excitingly, features current London Hairdresser of the Year, Philipp Haug in residency. Philipp is the perfect person to consult about changing your style and how best to synthesize color with the chosen cut.
TONI&GUY Kensington
14 Kensington Church Street, London W8 4EP
Telephone 020 7937 0030
To book a treatment at a salon near you, please visit: https://toniandguy.com/
TONI&GUY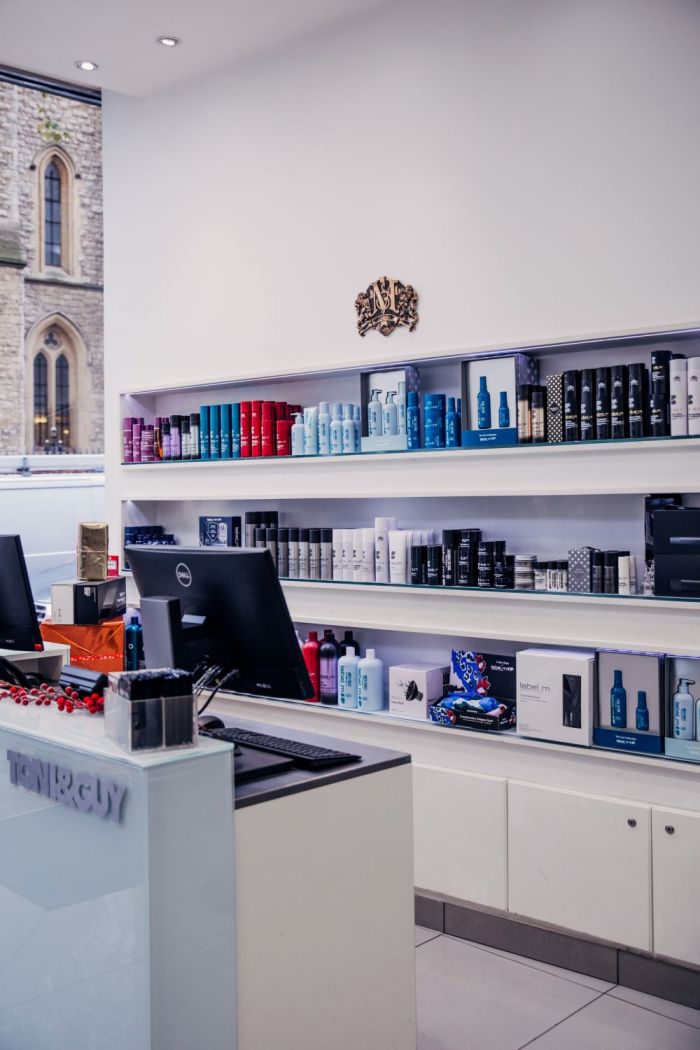 TONI&GUY