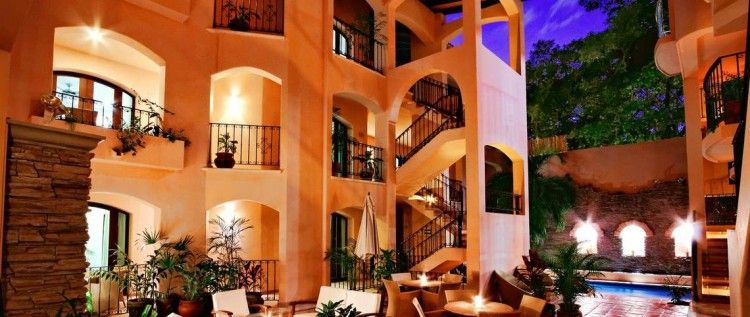 AcantoHotels.com
After Christmas, I picked Playa del Carmen and the Mayan Riviera in Mexico as my location for an extended vacation. Iíve never really experienced Mexico (only been to an inclusive resort in Puerto Vallarta) †or visited the Caribbean, so I figured Iíd kill two birds with one stone. After doing some research, I found out the coastal region is a center for luxury vacations, boutique hotels and eco-resorts, which is not only my type of vacation but perfect for my line of work. With so many to choose from, Iíve hardly had a chance to visit even a portion of them. So to help out, Iíve focused on three top boutique hotels in three popular travel destinations along the Riviera Maya:†
Considered Playa del Carmenís most romantic and charming boutique hotel by Frommerís. Acanto sits in the heart of Playaís famous 5th Avenue, which is the main tourist strip that runs 2 blocks from and parallel to the beach. So it gives you the perfect location between the beach and the action of the tourist strip. But note itís just off 5th Ave, so itís saved from the direct traffic and noise that comes with tourists, giving you instant peace and privacy.
Acanto offers full luxury hotel amenities, but is also set up as a residential condo. This gives options for multi-bed and bathroom suites, with full granite kitchens, upgraded appliances and other luxury home features. For the penthouse suites, youíre offered private rooftop patios with their own BBQ, jacuzzi and dinning set, along with a view of Playa and the Caribbean Sea. And if you donít want to cook yourself, theyíll bring in a private chef to cook up the best Mexican or international cuisine right in your kitchen. Note this is also a condo-hotel, so they offer ownership of their suites, which they will manage and rent out on your behalf.†
Playa has a relaxed scene, but for someone who has spent a lot of time in the Mayan Riviera, Tulum is a whole other world of chilling out. Be Hotel Tulum is a prime example of this, with their combination of luxury and natural features. The hotel holds 20 suites, which all beautifully match the natural surrounds, inside and out.†
There are 12 jungle suites that are surrounded by pure white sand and lush tropical plant life. 6 arena suites and two ocean suites are steps away from the beach and offer spectacular ocean views. All suites offer their own private pool or en-suite jacuzzi. And thanks to their beachfront location, they have a beach club and lounge bar, filled with a pool, beach beds, delicious food, colorful drinks and all the amenities to make you never want to leave.
This larger boutique-style resort by Zoetry offers 90 luxury suites that are only 20 minutes away from the Cancun airport. But donít let that bring up images of the giant, packed resorts of cancun. The Paraiso de la Bonita is spread across 14 acres, with pristine white sands beaches on one side and tropical greenery on the other, ensuring you still get away from it all. Itís found in Puerto Morelos, right near their National Marine park which is the largest barrier reef in the Americas. While giving you the boutique beach hotel ambiance, it also brings the best in luxury resort amenities.†
Staying here automatically give you their Endless Privileges experience, which is essentially like all-inclusive option, but on a much higher luxury level. It includes all meals, either in their gourmet restaurants, bars or in-suite (24 hours). It also includes lots of spa and wellness options, complimentary premium brand drinks, catamaran sailings and much more. The Paraiso is also proud to have the first Thalassotherapy spa in North America. It covers over 22,000 square feet and covers a huge range of hydrotherapies, detox programs, body wraps, facial treatments, therapeutic massages, personalized yoga and meditation sessions, fitness center and workout activities, plus much more.
Have you had the chance to stay at these or any other boutique hotels along the Mayan Riviera? Weíd love to hear about your experience, so please leave us a comment below!
AcantoHotels.com
Acanto Hotel Condo
AcantoHotels.com
Acanto Hotel Rooftop
BeTulum.com
Be Tulum Hotel
BeTulum.com
Be Tulum Suite
BeTulum.com
Be Tulum Beach Club
ZoetryResorts.com
Zoetry Paraiso in Puerto Morelos
ZoetryResorts.com
Zoetry Paraiso Boutique Resort
ZoetryResorts.com
zoetry Paraiso Suite