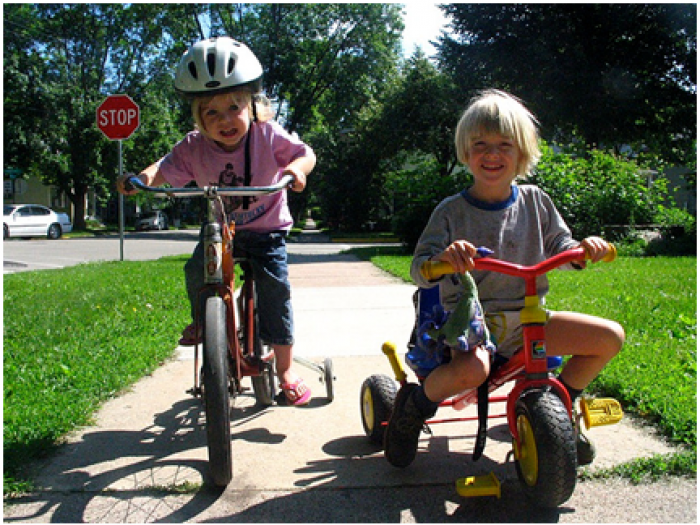 Image by: Jonny Hunter
Itís hard to tear kids away from the TV at the best of times, but getting them active shouldnít be a chore.
By incorporating physical activity into your childís daily routine, health risks such as cardiovascular problems are considerably reduced; in addition to ensuring strength and healthy development. There are plenty of ways to encourage your child to get moving, the most effective of which just need a little imagination!
†
Walkie Talkies
Have them go outdoors for a game of hide and seek and supply them with walkie-talkies! By taking them out to a safe expanse of outdoor space such as a park or a beach, they have further ground to cover. By supplying short-distance communications devices it adds an extra element of fun, whilst allowing you to get involved or sit out and keep watch from a safe distance.
†
Bikes
There are very few locations that canít be reached on two wheels so why not buy bikes and use them as an exciting way to travel to your adventure destinations? Itís a great wait to cover more ground and get your children developing strong bones and muscles.
Itís good to get kids involved as early as possible in environmentally friendly transport alternatives and this is a perfect way to do so. Bike riding is also proven to increase endurance, stamina and flexibility.
†
Telescopes
Explore the night sky by taking†a telescope on a hike (obviously a route tailored to the age and ability of your little ones,) and set up camp in the evening with a constellation guide. This is a wonderful family activity for innovative parents and astro-curious kids, and it can be repeated until you run out of locations! You can extend your stay by popping up a tent, or return home later on with your fresh faced angels tucked up in the back seat of your car.
And in the case of an evening becoming unexpectedly cloudy, thereís always room for some spooky stories around the campfire.
†
Metal Detectors
Organise a family trip to the beach and use metal detectors to hunt down hidden treasure! You can make the search as elaborate as you like, from placing your treasure a couple of days before, to planting pennies in the sand on location and making up little clues as to their whereabouts.
You can even use your Smartphone device to have them follow a map to the location of their pirate booty.
†
Planes
Buy a motorised plane kit and turn the assembly into a family activity. Either that or you can buy a readymade one and commence flying lessons. If you donít want to pay as much for an airborne privilege then a sports kite can be just as enthralling.
So whether you choose to play games, fly planes or buy bikes, 24/7 entertainment is guaranteed.
Do you have any more gadgets that will keep the kids entertained? Let us know below...