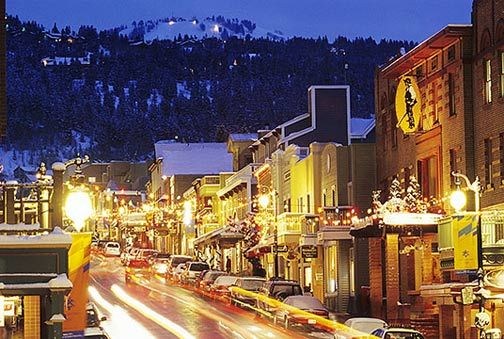 Utah is known as an outdoor paradise. In the winter, this town is home to some of the greatest snow on earth and attracts skiers and snowboarders from across the globe. In the summer, people head to the trails for hiking, biking and gorgeous mountain scenery. And Park City is also known for some fabulous and delicious food. The Food Network has made several stops to the scenic mountain town, showing foodies some delicious dining options in the area. Check out the top five restaurants that you can't miss when you are visiting Park City.
1. The Mariposa at Deer Valley Resort Deer Valley Resort is the place to go in Park City if you want an elegant experience. Bobby Flay stopped by The Mariposa on "FoodNation" for some dessert after a day on the slopes. While the dessert here is delicious, you will also want to check out some of the world-class entrees. The Mariposa is rated the number one restaurant in Utah in the Zagat Restaurant Guide and for good reason. Enjoy seafood, soup, salads, lemon-thyme gnocchi, lamb chops or a bison filet, all in the intimate and romantic setting.
2. Blind Dog Grill The Blind Dog Grill is a great little restaurant in Park City that features seafood and sushi. Rachael Ray enjoyed a dish here on "Rachael's Vacation." If the food can impress Rachael Ray, then you know it's a good choice. While many people don't think of Utah as the place to get good seafood, The Blind Dog Grill will offer a great assortment of fresh seafood and some of the best seafood around.
3. Good Karma Restaurant Rachael Ray made another stop in Park City on "Rachael's Vacation," at this Indian and Persian restaurant for some Middle Eastern delights. Come here for breakfast, lunch or dinner to enjoy a mix of spices and textures. The Punjabi is a great kebab for vegetarians, featuring cumin scented, and marinated grilled veggies. Or, perhaps the Fillet Sultani kebab will hit the spot with grilled center cut certified Angus fillet of beef, roasted red potatoes and vegetables with a tamarind glaze.
4. Windy Ridge Café Rachael Ray discovered the Windy Ridge Café on "$40 a Day." This café is one of Park City's best kept secrets, with reasonable prices and yummy food for breakfast, lunch and dinner. Enjoy fresh salads, a turkey/Swiss/avocado sandwich, or BBQ chicken pizza. The Windy Ridge Café is perfect for families taking a lunch break after a morning on the slopes or for those who are seeking comfort food. On a cold day in Park City, try the baked meatloaf to warm right up.
5. Callaway's Morning Ray Callaway's Morning Ray features home cooked meals, at an excellent price. Callaway's is a local favorite for breakfast, but as Rachael Ray discovered on "$40 a Day," this is also a great place for lunch or dinner. Try the creamy pesto with chicken, Eddie's Jambalaya, or the Bistro Mac 'n Cheese. Or, if you want to keep it light, try the Garden Veggie pizza or the Santa Fe salad. Be sure to leave room for dessert, like the luscious lava cake, a dessert pizza or Callaway's famous cheesecake. Where is your favorite place to dine in Park City?
About the Author: Lisa was born and raised in Salt Lake City, Utah and makes frequent stops in Park City for the food and entertainment. She is a copywriter for Satellietetv.com and loves writing about Satellite TV.