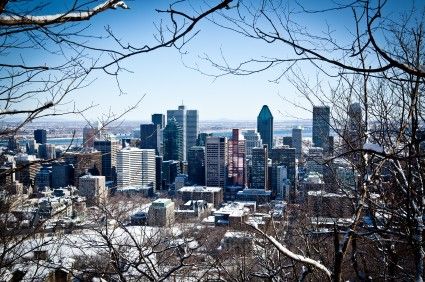 Montreal being the second largest city in Canada, after Toronto, has marked a spot on top of many travelers lists of places to visit. Getting its name from Mont Royal, one of the most majestic mountains located in the heart of downtown, provides visitors with an incredible view of the city as well as great recreational activities for the adventure seekers.
During the colder months most travelers make their way to Mont-Tremblant to experience the true beauty of Montreal during the winter holiday season. Mont- Tremblant being the premier ski resort in the area, encompasses 95 different ski trails with the majority of them holding challenging courses at expert levels. If an exhilarating experience is what you are looking for this winter, Mont-Tremblant resort is the place to be.
Otherwise, if a quiet, more relaxing sort of vacation sounds more appealing to you than there's plenty Montreal has to offer besides a wonderful ski vacation. With its consistent rating of being one of the most livable cities that exudes with French flare, between its edgy culture, inspired cuisines, elegant boulevards and modern architecture, Montreal sure captures artistry at its finest.
Planning a jet charter flight for the entire family? Be sure to bring the gang to engage in the winter wonderland activities offered at Winter Village in Olympic Park, held between December 15th through mid- March. Enjoy toboggan slides, ice skating adventures, live entertainment, and a variety of different winter sports fun for the entire family. During the month of February you can find Barbegazi, The Extreme Sports Winter Festival that includes freestyle snowmobiling, snowboard competitions, snow tennis, free skiing and even lumberjack challenges!
Experience the joy of Christmas and the holiday spirit that the locals bring to this magical city as it illuminates in the night sky every Christmas at the International Holiday Village Light Up Event. Montreal has it all - take advantage of all the great events, sights and sounds of this phenomenal city today by arranging a jet charter flight through Stratos Jets. One of our air charter agents will source a private aircraft of any size- light, mid-sized, or heavy jet, with as little as four hours notice. They are available around the clock to cater to all of your needs and will be with you every step of the way - from the start of your travel plans to the time you land. Call Stratos Jets today at 888.478.7286 to jump start your winter jet charter travel itinerary today.