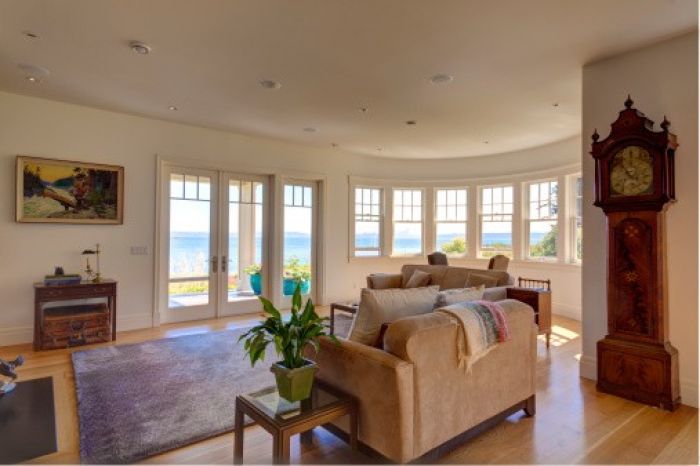 www.gettyimages.co.uk
If you add a touch of sophistication and elegance to your home, it will look more glamorous. However if you don't have the budget for your expensive home furnishings, wall treatments and flooring, such a décor may seem out of your reach. You can have the air of luxury in your home with hard work, creative eye and by considering some tips and techniques.
Nevertheless constructing a home is a monumental undertaking regardless of your budget. The design of a luxury home is most daunting. A larger budget means more options and more customized features. In order to achieve an appealing high quality end result you have to assemble a skilled team of professionals. The professionals can help you to make well-informed decisions for designing your luxury homes.
Some of the interactive luxury homes are prepared with systems that help you to control the details of your daily life with the help of a touch screen panel. The system is a part of the overarching network that helps you to decide the function of your home even if you are not present there. You can fully automate the network if you like. The modern day luxury homes are based on extensive technology, space as well as richness in materials.
Let's have a look at the tips for designing a luxury home:
Collect photographs of designing features
You should collect photographs of designing features. While exploring the options for the photographs, you have to consider the activities that provide you the greatest satisfaction. Whether you envisage a casual family gathering around an infinity pool or ultramodern chef's kitchen, the photographs will help to guide you with a future designing team. Do not forget to consider the requirements of an extended family. Your beloved friends, in-laws and live-in nanny can spend significant time in your new home.
Talk to the local home builder's association
You also have to talk to your local home builder's association for finding out a local builder who creates custom-made luxury homes. A skilled builder can guide you properly in selecting an architect, finding innovative products and in locating a building site. If possible you can also talk to the homeowners and know whether they are happy with the work of the builders.
Check out a referral list of architectural firms
You can contact the local section of the American Institute of Architects for obtaining a referral list of architectural firms specializing in making designs for luxury homes. A proficient architect can help you towards building a site suitable for the type of construction you want.
Visit the sites of potential building
You can visit the sites of the potential building that offer an appealing landscape. If you want to construct a building within a country club or a gated community, you have to obtain a community site plan. You must keep this in mind that such communities may require your architect for submitting your proposed plan to a review board. This is needed for approving features like exterior paint colors, roofing materials, garage orientation, privacy fences and driveway surfacing.
Meet with the architect
You are also required to meet with your architect for making a comprehensive discussion of the design details. Your architect may take several weeks for drafting a rough plan. You may also require more number of meetings for refining the plan. While discussing the plan with your architect, you should remember that square footage does not necessarily dictate your construction budget. A large open space may be less costly to build rather than a smaller space with irregular size windows, extensive masonry work and exotic hardwood floors.
Discuss with a landscape architect
You also have to discuss with your landscape architect before the beginning of your construction. An expert landscape designer can help you in your site planning and in selecting the species of native plants matching the design of your home. The proficient landscape designers can also offer you excellent ideas for exterior lighting, water features, decking surfaces and pools.
Consult with an interior designer
Finally you have to consult with an interior designer for discussing the way you want to furnish your house. You will be able to build a vision of your finished abode by having a look at the fabric samples, window treatments as well as the must-have decorative items. Once you get the idea of your finished home, you will be able to work with your designing team for choosing flooring materials, wood finishes and tile work for establishing a cohesive style for every room.
Check out these tips and design your dream home in a luxurious style.
Albert Smith is passionate about home renovation, architectural design and gardening. He is a freelance architect and a property management consultant in West Palm Beach, Florida. You can find Albert's articles on many property blogs and article directories. Currently he is writing about construction paper and tips for designing a luxury home.