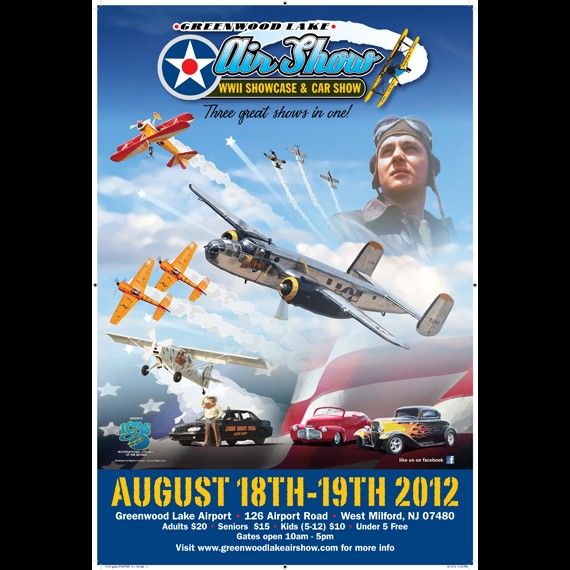 Designed by Stephen Pavlisko
For Immediate Release
Top Aerobatic Performers To Share the Spotlight as the Headline Acts At the 2012 Greenwood Lake Airshow August 18th -19th.
West Milford, New Jersey- July 7, 2012- The 2012 Greenwood Lake Airshow is proud to present headline airshow performer Gary Ward. Gary Ward is one of the top airshow performers in the United States. Gary puts his MX2 Aircraft through one of the most exciting performances you will ever see. The entire sequence is jam packed with breathtaking gyrations that range from zero speed hovers to dives in excess of 250 mph! Gary makes full use of the power and agility of the MX2 to perform many maneuvers that an "airplane just isn't supposed to do! "Gary Ward performs one of the most exciting and entertaining performances you will ever see in any aircraft.
The Greenwood Lake Airshow is also proud to present the Twin Tiger Aerobatic Team. Pilots Buck Roetman and Mark Sorenson have teamed up in two identical vintage Russian Yak 55's each painted in a dazzling orange tiger stripe color scheme. They will provide a magnificent aerial demonstration that will highlight the demanding skills required to fly close formation precision aerobatics.
The 2012 Greenwood Lake Airshow is an exciting event the entire family will enjoy watching! Greenwood Lake Airport is located at 126 Airport Road in West Milford. For more information on the airshow and airport, please visit our Web site at www.greenwoodlakeairshow.com or call 973-728-7721. We look forward to you and your family's visit!
Stephen Pavlisko
126 Airport Road
West Milford, NJ 07480
email www.greenwoodlakeairportairshow@gmail.com
######
Gary Ward Airshows
Gary Ward
Gary Ward Airshows
Gary Ward
Twin Tiger Airshows
Twin Tigers Demo Team
Twin Tiger Airshows
Hotwire Harry: The Great Escape
Jane Wicker Airshows
Jane Wicker Wing Walking
Jane Wicker Airshows
Jane Wicker under the wing
Gary Ward Airshows
Gary Ward