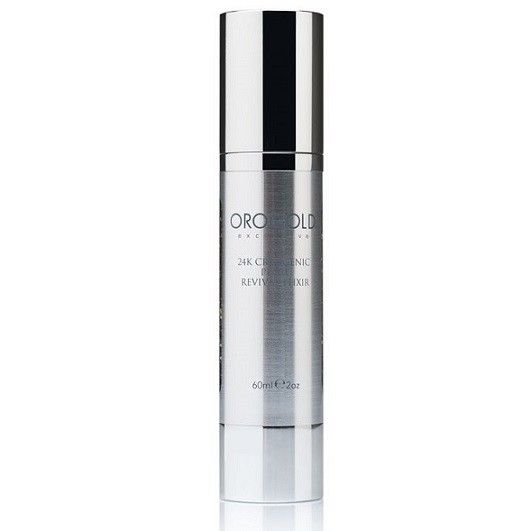 OROGOLD
With summer quickly on its way out, it is time now to think about your new look for fall. Here are our top picks for fall beauty products.
It's time to say goodbye to your wrinkles and one of the fastest and best ways to do just that is with OROGOLD's 24K CryogeniC Pearl Revival Elixir. We have been a fan of OROGOLD since it came out with its containment of 24K gold. This miracle serum works just as hard as Botox to eliminate the appearance of fine lines and wrinkles. After just a few applications, our wrinkles were dramatically reduced thanks to the unique combination of ultra luxurious ingredients like 24K Gold and Mother of Pearl.
Another fantastic OROGOLD product that we keep on our daily regimen is the 24K Multi-Vitamin Day Moisturizer. Loaded with antioxidants and pure 24K gold, it left our skin with a gorgeous healthy looking glow while reducing the signs of aging. Simply apply each day after cleansing and the added ingredients of Vitamins E, A, C, B and Pro-B5 will work to hydrate and moisturize leaving you with more youthful skin. Who doesn't want that?
Another great anti-aging product is Elizabeth Arden's PREVAGE Anti-aging + Intensive Repair Daily Serum. The intense formula is designed to reduce the environmental effects on the skin, which result in increased signs of aging. How does it do that? This serum uses a powerful antioxidant known as Idebenone to protect the skin from oxidative stress, while also restoring youthfulness and promoting skin's natural repair process. Coupled with the ingredient Arazine, which soothes skin and protects against free radicals, Idebenone helps reduce the appearance of fine lines and minimizes signs of aging caused by cellular inflammation.
We all love that sun kissed look so who says you can't have a natural looking glow year round? Now you can with Merle Norman's Self-Tanning Bronzing Foam. If you are like us and don't enjoy the orange glow that often comes from most spray tanners, we recommend this one for a natural brown hint of color that comes from alightweight foam to provide a streak-free, healthy-looking tan.
Speaking of Merle Norman, we are also a huge fan of their new Liquid Lipcolor that comes in a variety of great fall colors. The long-lasting formula features a supple, whipped texture, and a semi-matte finish. We love the moisturizing color that doesn't dry out our lips and keeps them hydrated throughout the day through the combination of Argan Oil, Meadowestolide and DL Plum Oil French – which comes only from plums grown in the southwest of France. The infusion of Sym3D plumps up our lips and makes them appear fuller, smoother and hydrated.
For those occasional frustrating blemishes that still arise every now and then, we reach for jane iredale's Zap & Hide Blemish Concealer. The creamy stick works to treat the problem while covering it up at the same time. It is also designed to calm breakouts using antibacterial and anti-inflammatory ingredients like tea tree leaf oil, chamomile and psorealea corylifolia extract. It can also be used as a spot treatment day or night while the Blemish Concealer camouflages imperfections and any post-breakout redness.
One of the biggest beauty trends of 2014 was the "no makeup-makeup" look that combines minimal makeup with a soft, glowing complexion. With the introduction of BB cream and barely there products, the result is a beautiful flawless look. Amarte, the luxe Korean skin care brand, knows how to do just this with its "barely-there" daily regimen that uses a calming cleanser, hydrating whipped serum, rejuvenating cream and flawless BB cream to bring out the clarity, beauty and brilliance of every person's skin, great for pulling off the no-makeup look. We recommend their latest product – the Wonder Cream. This brightening antioxidant facial moisturizer is rich in arbutin and contains one percent retinol to deliver smoothness while delivering a bright glow. Complete the look with their Natural Finish BB Cream, a sheer, finely pigmented beauty balm that provides uniform coverage for a natural flawless look.
When it comes to hair products, we all know Moroccanoil is best known for its miracle oil that hydrates hair and moisturizes at the same time. Now, it's time to meet their Molding Cream. This emollient cream works on damp hair to create a natural look from long, tousled beach waves to short, structured bobs. We love the intense moisture the fiber rich formula provided our hair along with increased elasticity to leave our locks soft (not crunchy) with a long-lasting hold.
OROGOLD
Elizabeth Arden
Merle Norman
Merle Norman
jane iredale
Amarte
Moroccanoil