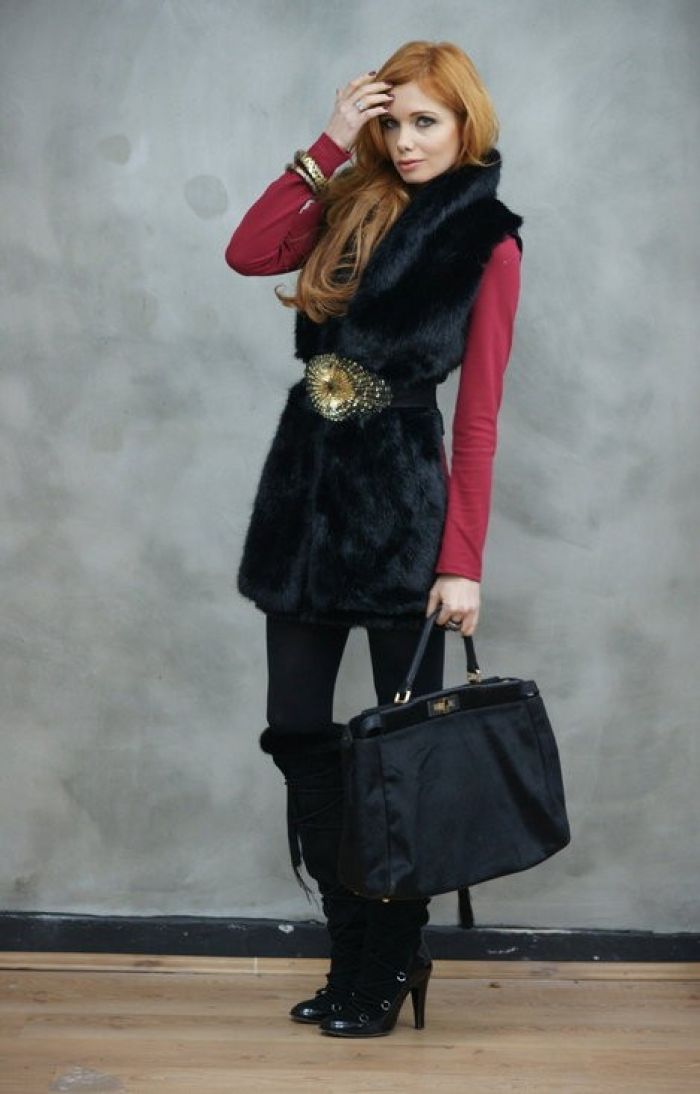 http://fabfashionfix.com/style
It's that time of year again … where summer gives way to fall and a sense of warmth needs to creep into all things fashion so that the feel of what you're wearing, as well as the label, offers the snuggle of sophistication that only those finer things in life can bring.
So, what's the fashion for those sophisticated snuggle-ups in the coming season? The main seasonal color bases for your wardrobe need to be red, green, yellow, orange and purple, but the secret to all things luxury fashion for the time of year is texture …
Faux Fur: The jury is still out in respect of real fur and luxury labels, but thankfully this fall's trend of faux fur takes us nowhere near that issue, because to be on trend, fur of the faux kind is definitely in. The must-have color to complete the look is cream – and it's easy to see why. Alongside those bright primaries of the fall color trends, delicate creamy tones coupled with the textural delight of the faux fur is a stylish way to warm those vibrant tones, as well a to carry off this season's look for warmth.
Top items in this trend include gilets and body-warmers as an outfit top-layer, but completing the look is also important so look out for cream faux fur edged accessories such as gloves, hats, scarves and boot toppers.
Metallic Knits: The summer's cat-walk trends of metallic knits in both male and female fashion continues into the fall and there's nothing more luxurious than the hint of fine metallic to add a jewel-like texture and sparkle throughout this season's stunning knitwear.
The single item of fashion choice for ladies is the metallic knit sweater – but with the cheeky twist of a deep V to both the neck and back detail which gives a nod of the sexiness of summer, with a modest peep of the summer's remaining tan from both front and behind.
For males, the Burberry summer trend of metallic knits in shirts and jackets looks set to continue as it their "come rain or shine" attitude to 2013 fashion transfers well into that rainy season!
Lace: There's still a place for lace in fall fashion, which is excellent as, when made from the highest quality materials, lace can be one of the most understated yet luxury fabrics around, whilst vintage lace is something Insured 101 might eveb be invloved in keeping safe!
The transition from the sheer delight of the summer's lace dresses comes through the move into lace knitwear as the seasons progress. The most popular look is likely to be lace knit sweaters – many of which are based on those vintage 40's lace knit styles (but without the worry of damage and insurance of the genuine article). This look is particularly set to have a popular following in the "from work to evening" ranges, as those lace knit tops add a sense of glamor to the more corporate attire of the daytime, yet are easily transferable to an evening look: remove that suit jacket to reveal the sexy peek-a-boo element of skin through lace.
In female fashion, lace blazers also feature high on the luxury trend list for fall wear, adding feminine edge to that masculine shape and style which a blazer conveys. This combination of the fabric and style offers the perfect elegant, but purposeful cover-up for cooler evenings.
Long Sleeved Sweaters: Of course, the fall weather leads us shivering along for arm coverings and Vogue is highlighting the fashion status of this seasonal necessity by favoring long sleeve and long-line sweaters in luxurious knits and a range of textures. The ultimate in easy-wear and high fashion is to couple these sweaters with matching long-line cardigans, a modern twist on the classic twin-set, which can joyously also encompass those trends of metallic knits, cables and textures which are dominating the fashion scene for fall.
Fringed coats: Oversized coats are going to be big once the season's temperatures start to drop, but to carry that cat-walk coat-look to the ultimate level of texture and interest? Fringed collars to add a tactile edge are definitely in! Fringed collars on those oversized fall coats look set to relegate scarves to the back of the closet until the winter kicks in, whilst variations include fringed sleeves and shaggy, fringed shrugs, for looks which create both the glamor and warmth of pure luxury.
Finally, remember that continuing to layer your clothing, but by starting to add some of those trendy textures will also help you to remain stylish, as well as keep warm, as the temperatures start to drop.
fashionmagazine.com