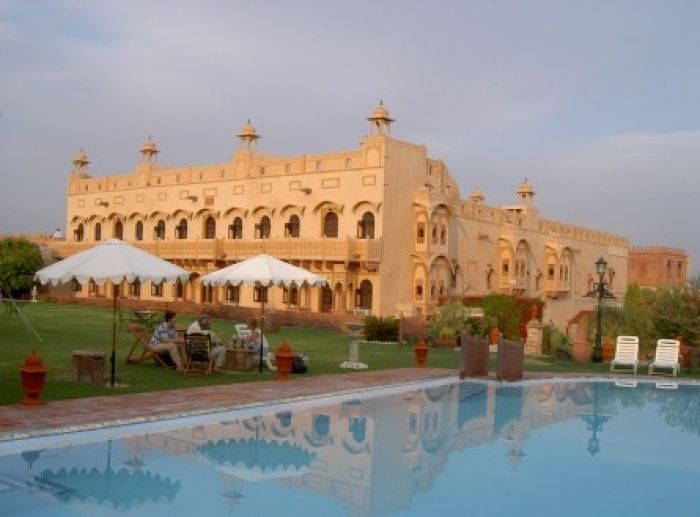 Extravagant, eclectic, elegant and exotic place with many states and vivid culture,Indiaoffers myriad moments for the tourist which visits the country from each corner of the world. While navigating your way into and aroundIndia, you can choose different types of theme tours like wildlife tour, golden triangle tours, historical tour,Himalayatour, festival tour and lot more.
Historic tours help in getting the glorified picture of any country, India is a country which has glorious history so surely it will take back all the way to the dawn of human civilization. The past of the nation has seen a melting pot of many empires and rulers which has left its footage on the countryside. The below listed historical travel destinations will help in exploring enchanting extreme grandeur land which is also known as "Golden Bird" for centuries for the wealth held in itself.
Khajuraho Temples: World heritage site renowned by UNESCO, the temple town is famous for the intriguing erotic sculptures and is the origin ofKamasūtra. The 20 temples available in this city devoted to sex and sexuality, but more of it gives the feeling of life, love and worship. The temples which are meticulously carved are unique in their architecture.
Taj Mahal: It is one of the brilliant architecture and marvelous place inIndia. Taj Mahal is among theSeven Wonders of the World, an epitome of love, the monument of measurable beauty and is the pride of the nation constructed by Shah Jahan for his wife. The speechless beauty of the Taj Mahal is the showcase of rich Mughal architecture of the past era.
Hampi: The place Hampi was once the capital of greatest Hindu emperor is now a laid back village reveals the rich past ofIndia's history. Located in the central Karnataka has some extremely fascinating ruins that take back to the 14th century. More than 500 monuments including the most striking monuments like Vittala temple has 56 pillars which create musical sound if you struck with it.
Ajanta and Ellora caves:Ajantaand Ellora are the astonishingly carved hillside rock caves in the middle of nowhere and are dating almost from between 6th and 11th centuries AD. The caves are rich in sculpture and paintings and are famous for their amazing architecture. These incredible caves are mainly crafted by hand using chisel and hammer.
Fatehpur Sikri: The proud capital of Mughal Empire Fatehpur Sikri is a well-preserved city and stands deserted as a phantom city. Regal palaces of the city constructed using reds stones and show the grandeur architecture of Mughal dynasty. The four main buildings of the fort have buland darwaza, Tomb of Salim Chishti and the Panch Mahal makes the Fatehpur Sikri Fort. 
These are the most famous historic tourist destinations inIndia; however there are many greater assortment and wonders which can always have better impact on tourists mind. So enjoy tourism atIndiaand get captivated with immeasurable treasure in terms of tourists spots, culture and natural scenic spots.
Amanda Bos is rendering services for India Tours, Taj Mahal Tours and Holidays in India, Visit- indiansummerca.com