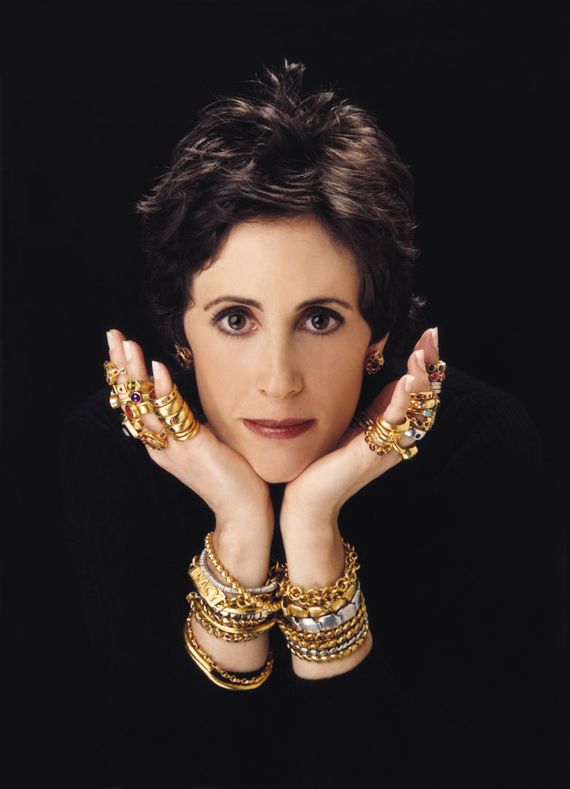 Art is a glimpse into the artist's soul, and Tracy Dara Kamenstein expresses her soul—vibrant, chic, and sexy—in her stunning jewelry creations. Tracy's fresh ideas, artistic design, and unusual use of gems, set her apart from her more traditional rivals.
Her shop on Worth Avenue in Palm Beach, with its 18th-century French décor, is a favorite stop for those who savor her unique designs. The ornate wallpaper is a reproduction of that in Marie Antoinette's boudoir at Versailles, and the showcases are gold-framed wall insets of various sizes, similar to those in art museums.
"I didn't want the typical jewelry store," Tracy says. "I wanted something warmer, with an unusual look. My mother helped me with the design, and she and I fell in love with the wallpaper the minute we saw it; we designed the rest of the décor around it."
While a sculptor and painter in New York, Tracy began to design her own jewelry out of a recurring desire for "just the right piece" for herself, which she often couldn't find in boutiques. She took some classes in working with precious metals and gems, then unleashed her imagination and talent to create eye-catching items that were the talk of her social circle. Her creations drew so much praise that she soon launched her own jewelry line. In 1990, Tracy moved to Palm Beach, and she opened her eponymous shop two years later.
Inspiration for her "gemmy" collection—pieces covered with gems of      various colors and shapes—"actually was candy," she says, admitting to a sweet tooth. On the other end of the spectrum, she also has a fascination with skulls, which arose from the attraction to tattoo art she's had since she was a child. She incorporates them into rings and other designs: "I'm working on a very unusual piece right now that's a big skull on a pendant. The back of the skull opens up like a box, and it has rose-cut diamond eyes and a rose-cut diamond nose. It's definitely going to be one-of-a-kind."
Competition among the many jewelry shops on Worth Avenue is fierce, but Tracy's fresh ideas, which focus on artistic design rather than the gems they bear, set her apart from her more traditional rivals and continue to tantalize all those who visit her shop.
I have known Tracy for many years, and whenever I'm in Palm Beach I make it a point to visit her shop so I can admire her latest creations and relax in the enchanting atmosphere she has created. Her clientele is very special and she always has a great story to tell.
"Perhaps the most eccentric client to walk through our doors was Ozzie Osbourne," Tracy told me. "Before his family's reality television show debuted, his wife, Sharon, and daughter, Kelly, stopped in. Kelly was intrigued with one particular ring—it was called a treasure-box ring, and it was completely covered in pavé diamonds.
"There was a little box on top," Tracy continued, "and the top lifted up so you could put something small in it. Kelly said, 'Look, Mom, this would be a great pimp-daddy ring for Daddy.' A couple of days later, the three of them came in to buy the ring, and Ozzie just sort of stumbled into the store. He had such an odd energy and smelled like incense—it filled the whole room."
. 22K gold Cushion cut Peridot Gemmy ring completely encrusted with precious and semiprecious gemstones.
22K gold Snake earrings with dangling, white enamel skulls and ruby eyes.
Diamond-encrusted 22K gold Treasure Box ring with opening lid. 5.75 cts total weight of the finest, white diamonds.