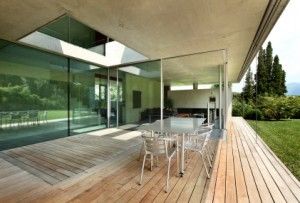 When you think of minimalist décor, you probably think of a stark white room, with simple – and very little – furniture. There are few, if any, decorative items and a cold, almost sterile feeling. It almost makes you wonder, "..does anyone live here?"
A minimalist decorating style doesn't have to mean you have to forgo personality and comfort in your home, though. In the most basic terms, minimalist means adding only what is necessary to the room, forgoing excess objects, busy patterns, multiple colors and clutter. All this you do in favor of a simple, clean, and relaxing space. In fact, flip through the pages of any design magazine or book, and you'll see quite a bit of minimalist décor, featuring a few beautiful pieces of furniture and art with one or two simple decorative items.
How to Go Minimalist
The first step to redoing your home in the minimalist style is to clear out the clutter. Piles of books and papers, shelves stuffed with knick-knacks and photos, walls covered with framed artwork, photos and bulletin boards should all be cleared out, creating a clean, blank canvas to work with.
The focus of a minimalist room is on what you need, so include only furniture and items that you absolutely need in the room. For example, in the living room, you need seating – a sofa or love seat, and perhaps a chair or two, plus a coffee table, some lighting, and if necessary, a simple television stand. In the kitchen, keep the counters clear of everything but the absolute necessities and if you must have something on the dining room table, a simple floral arrangement or bowl of fruit keeps things clean and uncluttered.
White – as in white walls, white furniture and light-colored flooring – is most commonly associated with minimalism, but if you want something warmer, choose solid colors that are soothing, such as earth tones or shades of blue and green. Avoid busy patterns, like stripes or checks, as they create visual clutter. Think simplicity, from upholstery to rugs to window treatments. Instead of complicated drapes with multiple layers, install a solid-colored valance over wooden blinds, simple curtains, or if you have a great view (and no nosy neighbors) leave the windows bare.
The most important thing to remember when going with minimalist décor is only to add the items that you absolutely love. One large, well-chosen piece of artwork is better than five smaller, so-so pieces, just like one well-made, beautiful table is better than multiple smaller inexpensive pieces.
Why Go Minimalist
When you have a busy family, or even when you live alone, it's easy for clutter to build up. Think about how much time you spend cleaning each day, or each week, dusting knick-knacks, organizing household items, and putting things away. With a minimalist design scheme, you'll reduce cleaning time, as there are far fewer items to clean.
A minimalist home is also less stressful. When every surface is covered – whether with books and photos and knickknacks, or just the signs of everyday life, the eye has no place to land without being overwhelmed. Keeping your home clear of clutter limits the distractions, and helps you breathe and feel less stressed. As an added benefit, minimalist style requires that you keep your items well organized and out of sight – meaning that when you're searching for something, you should be able to find it easily, without sorting through piles and piles of boxes and containers.
Maintaining a minimalist style can also be less taxing on your wallet. Instead of spending money on many items for the home – constantly changing out the décor and adding new things – you live with fewer items and therefore, save money. If you pay more for higher quality items, such as real wood furniture instead of pressboard, you'll find that your furniture lasts longer and does not need to be replaced so often.
Changing your home to a minimalist style is a major adjustment for many people. In today's consumerist society, it's easy to get caught in the trap of always acquiring more stuff. Making the conscious decision to keep your home free of clutter, though, is easier on your mind and your wallet. And, your home will still be beautiful and a reflection of your personality.
Judith Stern began her interior design career as in-house designer to a prestigious furniture retailer.  Today Judith and her family run Modern Furniture Classics in addition to several other furniture websites.  Her expert advice has been helping home decorators find the perfect modern bedroom furniture as well as many other furniture or home décor needs.