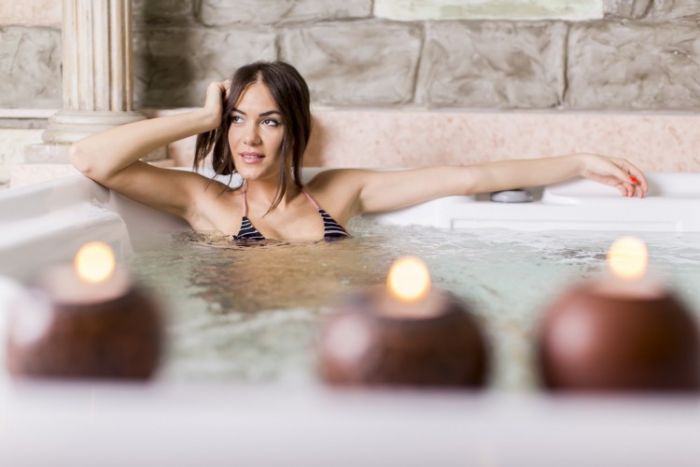 Shutterstock
After a long and hectic day at work, the ideal scenario is to go home and really relax and unwind. If you have a garden, then after being sat in an office all day it can be the one place you want to be to take in the fresh air and look at the stars.
Decorating your garden with some beautiful flowers and different decorations can help to make the area bright, beautiful and more pleasurable to spend time in. A great way to bring a luxurious vive to your garden is with a range of different candles – scatter some tea lights in various places and also find some tall garden candles for an extra bit of light (they also keep bugs away).
If your garden is particularly small, then it can be hard to fit in the all the chairs and tables or sheds and ponds you desire, but the one thing that can add an amazing touch of luxury to a garden of any size, is a hot tub.
When most people think of luxury hot tubs, they think of their dream home or even a hotel far away, the costs seem extortionate and then think that they wouldn't have the space anyway. That simply isn't true though.
In a survey of 2000 homeowners, Lloyds TSB Insurance found that a huge 10% of people now have a hot tub in their garden, and there is no reason you shouldn't join that statistic with one of your own.
Hot tubs are increasingly portable and convenient, readily available from online retailers such as Artesian Spas. They can be amazing after a long day on your feet or if you come home with an achy back. Just an hour of hot tub relaxation can cleanse your body and soul and make you feel like a whole different person.
Another way to give your garden a luxurious feel is by incorporating a gazebo and grilling area to your garden. This is fantastic for summer parties when you just want to relax and spend time with your loved ones with a few drinks and a nice plate of food. Even if you come home alone, a gazebo can make a lovely place to sit under the stars and read a book or just take in your surroundings.
Making your garden the luxurious space you have always desired isn't as hard as you may think. It won't cost a bomb and you don't need a huge garden, you would be the envy of friends and family alike if you had a hot tub and you would be able to invite them all around to join in the fun or just sit and relax for a while on your own to get a bit of peace and quiet.
Shutterstock