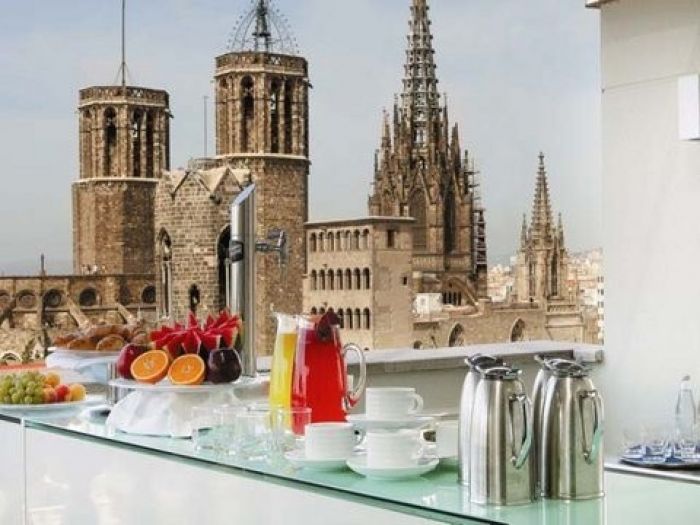 pinterest
Summer is coming, and sun worshipers the world over are stocking up on sunblock and poring over blogs and guidebooks, searching for their next destination. The front ranks of the sunchasers are of course the jet set, with money to burn and either first-class tickets or their very own plane. Whether you've got your own Gulfstream or you're still looking at planes for sale, Spain has a good number of noteworthy destinations you might want to consider, covering a range of interests and vacation lengths. Certain areas have been overdeveloped in the last few years, though, and we wouldn't recommend areas like Malaga and the Costa del Sol, which have borne the brunt of the tourist invasion and have sprouted golf courses and real estate developments. Instead, here are our suggestions for people who want to actually feel they're in a different country and want to experience its genuine culture.
Barcelona and the Costa Brava
Spain takes up most of the Iberian Peninsula and a few sizable islands to boot, so it offers a whole lot of coastline for the tourist to choose from. Some of the better parts to visit are Barcelona and the adjoining Costa Brava, or Wild Coast, which together let you experience Spanish culture and the Iberian landscape. Barcelona and the surrounding area are famous for food, architecture, and sheer joie de vivre, so you can steep yourself in the best Catalonia has to offer.
Barcelona is a lively juxtaposition of the ancient and modern: buildings dating back to medieval and even Roman times stand cheek by jowl with Gaudi's Modernist creations; likewise, the city's food scene ranges from traditional tapas and Catalan cuisine to international imports and the modern interpretations of Ferran Adria's disciples. Those who want to take a dip in the Mediterranean also don't have to go far since Barcelona boasts its own world-famous beaches, almost three miles worth of beach front, in fact, divided among seven beaches.
For travelers with more time and the willingness to explore, the Costa Brava offers a dramatic coastline that lives up to its name, interspersed with quaint towns and critically acclaimed restaurants.
San Sebastian and Green Spain
The northern coast of Spain is known as Green Spain since its higher than average rainfall makes for a lush green landscape that serves as a stark contrast to the rest of the country, especially the hot, dry south that most outsiders think of when they imagine Spain. For those who want to focus on Spain's culinary delights, the city of San Sebastian, in the northwestern part of Spain, is the place to go. This is Basque country, long famous for its unique language and its food, and Donostia, the other name the city is known by, has become a center of culinary excellence. In addition to a number of bars that serve pintxos, the Basque equivalent of tapas, it boasts a constellation's worth of Michelin stars and a roster of restaurant names that have critics and food lovers swooning, like Arzak, Berastegi, and Mugaritz. San Sebastian is also where txokos originated. These male-only gastronomic societies have been credited with keeping culinary traditions and recipes alive andrefining Basque cookery to its current level of sophistication.
Vacationers with a more active bent can balance the culinary exploration with bicycling, boating, or surfing, all of which are popular in the area. The beaches around San Sebastian are also popular with Spaniards, soyou get a more local feel compared to the Costa del Sol with its abundance of northern Europeans.Those with more time on their hands can also explore further along the northern coast, with the Costa Verde yielding secluded beaches, quaint fishing towns, and the culturally important city of Bilbao,with its Guggenheim Museum.Inland, the mountainous countryside yields spectacular vistas, with the Picos de Europa being one of the more popular tourist destinations.
Brandon Peters is an entrepreneur, writer, and traveler. He enjoys exploring both the history of a place and its modern face. 
pinterest
pinterest