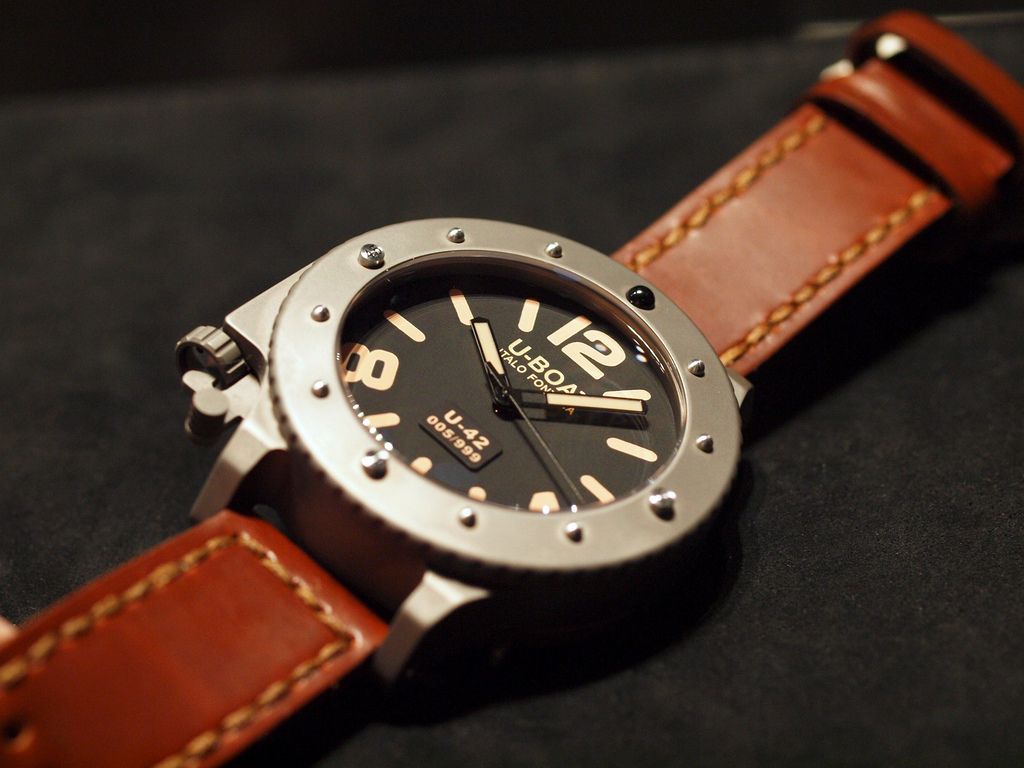 U-Boat
Everyone knows a man's watch tells a lot about his personality and style but if you are sporting a U-Boat, you are guaranteed to catch the eye of many onlookers. Known to be a personal favorite of celebrities like Sylvester Stallone, Arnold Schwarzenegger andGiorgio Armani, these watches boast an enormous 40-55 mm large face compared to standard faces which can start at 30 mm.
We recently checked out the gorgeous U-42 classic watch, which retailed for $7,000 and is based on a watch developed by designer Italo Fontana's grandfather for the Italian Navy. The limited edition watch, which was first unveiled at BASELWORLD 2010 is available in a chrono version with a 53 mm face but can also be purchased in a smaller size (47 mm). Both watches are available with a black dial and are just a limited edition of only 999 pieces made.
All engravings on this piece are carried out by mechanical pantograph, including the brass dial with plate located, which is galvanized and finished with a bright enamel paste. The pressure resistance of this piece is tested in an autoclave at 40 bar before the final assembly is completed.
The winding crown was carefully constructed in two parts: one is attached to the movement stem whilst the other is hinged to it with a pivot. This gives a flexible joint configuration which allows the crown to protrude considerably from the watch itself for winding and setting, yet returning it to a protected, hidden position - diminishing the side clutter when in action. The water-tight crown protection attached to the stem is assured by a clipping gasket and by an O-RING twin-arrangement.
The watch is water resistant to 300 meters and comes with a handcrafted brown leather strap. For the 53mm version, you can personalize the timepiece on its titanium plate on the strap. There is also a date window at 9 o'clock. Other features include charge axis, crown, stop crown lever, stop glass handles, bezel runners, quarters pointers, 5 minutes pointers and strap pivots in steel AISI 316. The watch thickness is 18.90 mm for diameter 47; 19.50 mm for diameter 53 timepieces.
The U-Boat U-42 watch will have you not only feeling but also looking like a celebrity. For more information, visit http://www.infinitytimegroup.com/.