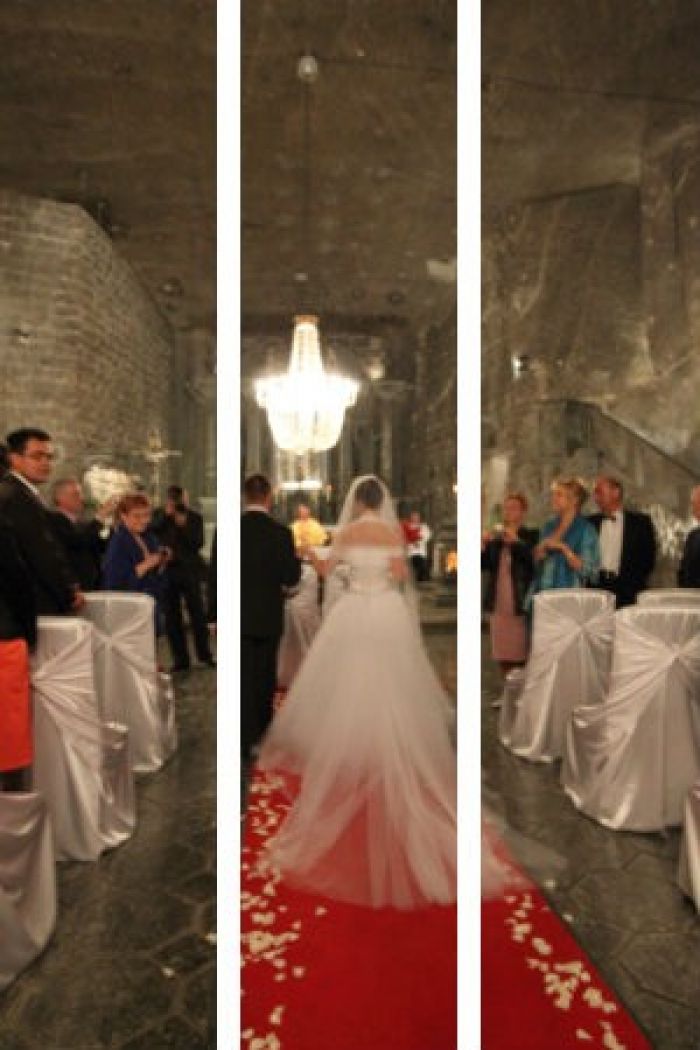 The captivating interior of the "Wieliczka" Salt Mine is a perfect setting for organising a training session, a ball, a press conference. Now this unique UNESCO listed site is offering the opportunity to hold an unforgettable wedding deep below ground. The saline underground is possibly one of the most unusual venues in which to tie the knot.
Whilst researching the facilities at the Radisson Blu hotel in Krakow - an elegant five star hotel that offers traditional wedding packages the hotel's web site refered to the nearby "Wieliczka" Salt Mine and it is on their site the following was discovered
The underground chambers of the "Wieliczka" Salt Mine are a perfect venue for all kinds of parties: weddings, proms, balls, family celebrations, and anniversaries and jubilee receptions. Young couples can celebrate their engagement in the romantic setting of the Weimar Chamber to the sound of Fryderyk Chopin's music. One thing is certain - deep underground, everybody receives. . . a warm welcome!

The "Wieliczka" Salt Mine is probably one of the few places in the world where you can hold virtually the entire wedding ceremony from beginning to end: the wedding ceremony, the party and accommodation for the newlyweds and guests. The newlyweds can pronounce their ceremonial "I do" at the altar of the monumental Chapel of St. Kinga or in the cosy Chapel of St. John, and then throw a lavish reception and dance until the morning in one of the chambers dedicated for such events. Perfect spaces can be chosen depending on the number of wedding guests. The largest of them, the Warszawa Chamber, can accommodate parties of up to 350 people at once!

Mine employees provide full technical and professional support of the events. Catering services are provided by highly skilled chefs and support staff. The dishes are always prepared on the spot, from fresh, top-quality products. The artistry of chefs working in the Wieliczka underground is recognised, with the industry awarding them merits in various culinary competitions.

The "Wieliczka" Salt Mine also offers numerous additional attractions - touring of the underground along the Tourist Route, greeting the newlyweds and guests by the Representative Brass Band of the "Wieliczka" Salt Mine, a photo session in the salt chambers, meeting with the Good Spirit of the Underworld, the Treasurer. Optionally, we can enliven your party with live or recorded music. Customers can also receive comprehensive assistance in the selection and preparation of table decoration and the room decor depending on its use.