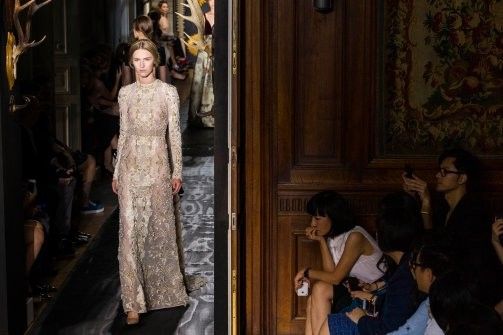 Jacques Brinon/AP
If it's elegance and grace you're searching for in your couture, look no farther than Valentino's rather impressive fall-winter collection for the 2013-14 season. With a delicate touch of ephemeral majesty, Valentino's elaborate designs bespeak an almost whimsical charm and crystalline grace that few contemporarydesigners are offering forth for the coming season.

The elegant salons of the neo-classical Hotel Salomon de Rothschild in Paris's eighth arrondisement are decorated with displays of curiosities--rare butterflies, fine corals, and stuffed animal heads.
Some of the room's ornate style seemed to have been translated into Valentino's 2013 Fall Couture collection from designers Maria Grazia Chiuri and Pierpaolo Piccioli, which debuted there on Wednesday night.
"Theirs is a wonderful room full of curiosities and natural and artificial virtuosities that accumulate and meld following paths of knowledge and surprise," the designers said in the show notes. (Read More)