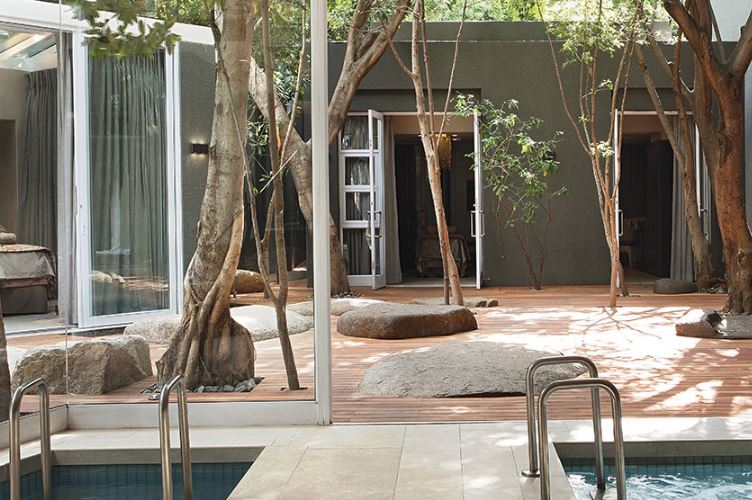 Saxon Hotel, Villas & Spa
An oasis nestled in the metropolis of Johannesburg, nature-inspired Saxon Spa is a lovely and transcendent retreat from the bustling city. The spa boasts many natural features and design elements which are strategically integrated throughout the facility to promote both vitality and balance.
Upon entering the spa, guests will immediately feel soothed by the light beige and warm brown color scheme. As visitors walk through, they will notice numerous trees sprinkled throughout, including one large tree as the central point of the spa, which truly brings the tranquility of the outdoors, indoors. Other cues taken from nature include cascading water features such as rain showers and hydrotherapy pools, signature fireplaces and a Himalayan salt chandelier. In addition to the chandelier, elements of Himalayan salt are combined with natural copper to set the backdrop for the spa by creating a healing and energy-boosting atmosphere.
Sight isn't the only sense that Saxon Spa uses to incorporate nature. The signature scent throughout the spa blends natural and therapeutic rosemary, eucalyptus, rose, jasmine petals, pomegranate blossoms, musk, cedarwood and sandalwood to both revitalize and relax guests after busy days of exploring the exciting city of Johannesburg.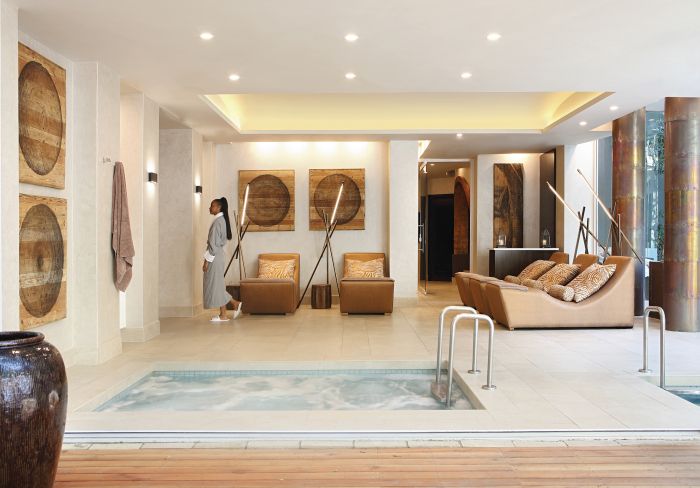 Saxon Hotel, Villas & Spa