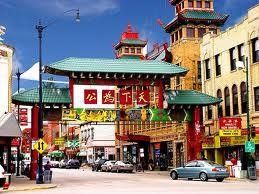 everywheremag.com
Near the south-side of the city of Chicago you wll find a hustling and bustling little place called Chinatown.  Even though it's not the only Chinatown in the US, it is recognized as the second largest.  Colorful banners and flying dragons are prevelent through the streets along the shops and restaurants.  There are many points of interest located in this small community.  Chinatown Square is a place where you can gather to see cultural performances and celebrations.
Some of the many places you will come across in Chinatown are:  The Nine Dragon Wall, Chinatown Mural, Chinese American War Memorial, Buddhist Temple and so much more.  There are plenty of restaurants located in this area.  The only hard thing is deciding which one to choose.  Shopping is not a problem with all the local merchants selling some of the most amazing cultural and traditional items.
This little community has several traditional and charitable events that happen throughout the year and are spectacular to watch.  Make sure you check their events calendar to see what's happening when.
You may also be interested in:
Chicago Food Planet Food Tours
lovethesepics.com