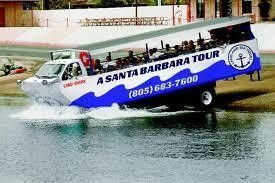 inspiratoblogs.com
When in Santa Barbara and looking for one of the many ways to tour the city, you might just consider taking a tour on one of their most unique vehicles. The Land Shark at Land and Sea Tours is a state of the art amphibious vehicle that allows you to view the coastline and mountain areas from the sea. This tour last about 90 minutes and is full of information regarding Santa Barbara's history.
This is a coastguard approved vehicle. You'll be able to enjoy views from the Santa Barbara coastline to the San Ynez mountains. The tour starts off on land by winding through the streets of Santa Barbara visiting local historical landmarks and other attractions. Then once your finished with the land tour your off to the ocean to experience breathtaking coastline and mountain views.
Also available are private group tours for up to 47 passengers. On a private tour you will have the flexibility of traveling at your own pace and even choosing a different starting location. This tour has been voted the "best" tour and ranked in the top 10 as one of the most fun.
You may also be interested in:
Fess Parker Vineyards and Wine Country Inn
pbase.com