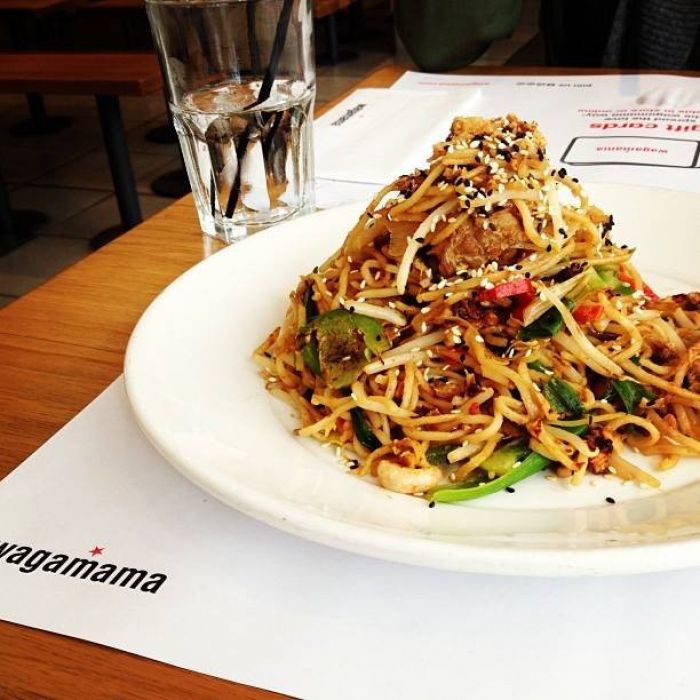 Wagamama
If you haven't yet been to Wagamama, the funky Japanese-inspired pan Asian noodle bar that comes to the US by way of the UK, you are in for a special treat. They recently opened their fourth location here in Massachusetts (in Lynnfield) to much fanfare.
The experience begins when you are greeted by a friendly server, who takes your order by a wireless device that is sent directly into the kitchen reducing wait times for dishes. When each dish is ready, it is then ushered out to the table to ensure that the food is delivered hot.
There are a variety of unusual starters here like lollipop shrimp or chili squid but we prefer the duck dumplings, a crispy deep fried treat served with a side of spicy hoisin sauce. Cool your palate off with some grilled lemongrass chicken lettuce wraps
We love the chili ramen dish filled with noodles in a spicy chicken and pork broth topped with grilled beef, chilies, red onion, bean sprouts, cilantro, scallion and a wedge of lime. The ginger chicken udon was a deliciously hearty bowl of teppan-fried udon noodles with chicken marinated in ginger, garlic and lemongrass. served with egg, bean sprouts, red onions, scallions, mangetout and chili.
All of the noodle dishes can be prepared with your choice of soba/ramen, whole wheat, udon, rice or somen noodles. Translated, "wagamama" is Japanese for "naughty child," which is how you will feel when you are slurping the noodles down in a mannerless way. But don't worry, everyone else is doing the same thing so enjoy!
Wagamama recently opened its fourth Massachusetts location at 1200 Market Street, Lynnfield. (The other locations are at the Prudential Center and Faneuil Hall in Boston and a third location in Harvard Square). For more information, call (781) 587-0553 or visit www.wagamama.us.
Wagamama
Wagamama