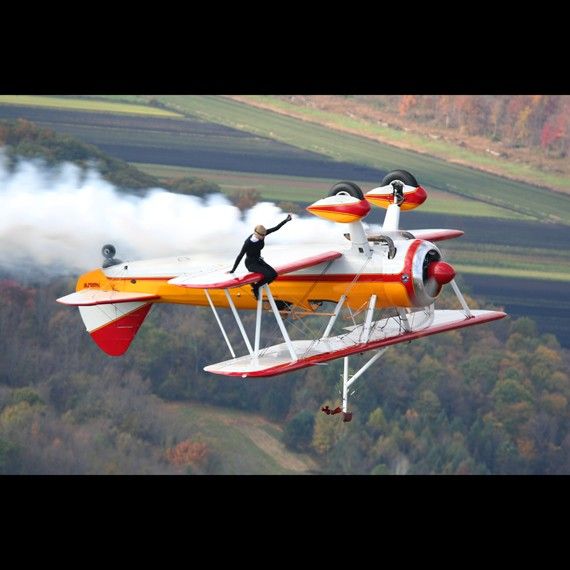 Jane Wicker Airshows
Walking On A Wing With Jane Wicker
July 29, 2012
WEST MILFORD, NJ —Picture stepping out for a breath of fresh air. Now picture doing that on the wing of a vintage biplane at 2,000 feet with no harness or parachute!
This is typical day at the office for wing walker Jane Wicker.
"Its like riding a roller coaster, times 100" as Wicker likes to describe the feeling of climbing and walking atop her 450 horsepower custom 1941 Boeing Stearman called Aurora — while it soars high in the sky.
"It's the most incredible feeling," Wicker said after a practice run in anticipation of the Greenwood Lake Air Show August 18-19 in West Milford, NJ.
Jane Wicker is one of the few wing walkers in the world today who transitions across the wings without the use of any safety lines or harness, harkening back to the golden days of barnstorming aviation.
She is the only female wing walker in North America who not only hangs beneath the airplane, but sits on the underside of the wing during an inverted pass down the show line. The act not only includes the typical top center aerobatics you see with other wing walkers, but your crowd will see Jane climb out of the cockpit as she transitions to the lower wing directly at show center. Nowhere else can your audience witness a wing walker moving about the airplane right in front of their eyes.
"I prefer to present wing walking as it was truly done back in the 20s and 30s by the early barnstormers- There's really nothing that compares to what I do for a living." she said. "There's this sense of accomplishment and realization that I just did something amazing," she said. "It's a very fulfilling feeling."
In 1989 she was given an aerobatic ride in a Stearman at the Flying Circus Airshow Aerodrome in Bealeton, Virginia as a Birthday present.  After that one flight, she knew she had to learn aerobatics and that she was destined to fly airshows.
Jane began wing walking when she answered a classified ad in the local paper in 1990. She answered that ad thinking that wing walking would be an exciting way to enter the airshow business, not to mention a lot of fun.  Her first time airborne on the wing also happened to be her first show.  She fell in love with it and was the primary attraction at the Flying Circus Airshow for 12 years.  She then traveled the country with "Beauty and the Beast Wing Walking".  In 2009 Jane bought a Stearman of her very own and started her own business. Not only does she perform air shows and run the business on her own, but she works full time at the FAA, and is a single mother raising two teenage boys.
Jane is not only a wing walker, but also a true aerobatic pilot in her own right.   She not only walks the wings of her Stearman but she is also an accomplished competition aerobatic pilot flying everything from the Stearman to the CAP 21.  
Jane Wicker is fast becoming America's favorite wing walking performance since her return to the air show circuit in 2010. She is increasingly being booked at air shows from coast to coast.
Wicker represents a varied nationally acclaimed cast of other performers expected to wow the thousands of spectators expected at the air show.
The cast includes headlining performers Gary Ward in his MX-4, and the Twin Tigers Demonstration Team, flown by Mark Sorenson and Buck Roetman, and featuring Harry Harry performing his great escape along with Kirk Wicker and his comedy Cub act, Kevin Russo in his beautifully restored SNJ trainer, and an impressive six ship Russian warbird formation team known as The Northeast Raiders.
Also on display will be the B-25 Mitchell medium bomber "Miss Hap," an iconic World War II-era aircraft brought to the show by the American Airpower Museum in located in Long Island. The historic aircraft, which was built in 1944, is one of only 30 of the 11,000 manufactured during the war that is still flying today, It was once the personal transport of General "Hap" Arnold and was once owned by the famous Howard Hughes. The B-25's made history during the famed Doolittle Raid over Tokyo 70 years ago, in which a group of the B-25 bombers made a harrowing take off from an aircraft carrier in the Pacific Ocean.
Other featured aircraft on display at the air show include the C-47 troop transport, known for the D-Day invasion, nicknamed the "Gooney Bird" and a Russian cold-war era L29 jet, as well as numerous other interesting aircraft.The air show will be on Sat and Sunday August 18-19th at Greenwood Lake Airport, 126 Airport Road, West Milford, NJ.  For tickets and info visit the airshow's website at www.greenwoodlakeairshow.com.
Stephen Pavlisko
Greenwood Lake Air Show
greenwoodlakeairshow@gmail.com
###
Jane Wicker Airshows
Jane Wicker
Jane Wicker Airshows
Jane Wicker Atop her 1941 custom Boing Stearman