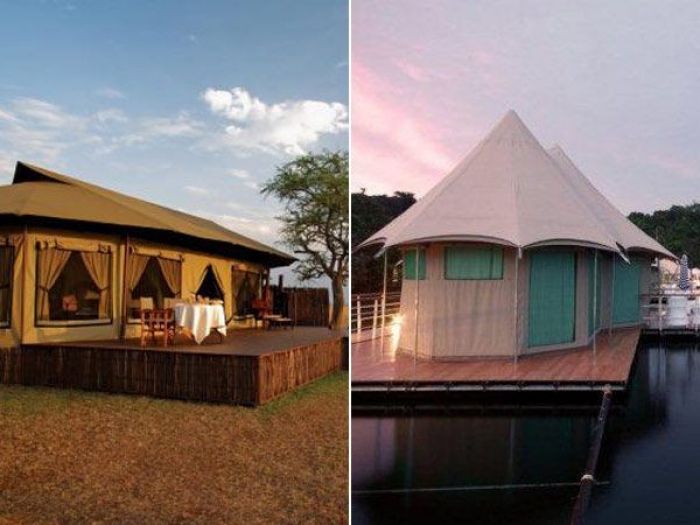 Camping - ugh! The hassle of putting up a tent, uncomfortable beds, having to cross a field for water, go to the loo or take a shower, inadequate cooking with the smell of gas, and none of the amenities of home. This certainly isn't the holiday that many people dream of and there's no wonder camping saw a massive decline as we looked for more from our annual holiday. Canvas has been eschewed in favour of all inclusive resorts where seemingly every whim is catered for. Except, a stay in a hotel has also 'sanitised' the holiday experience and it's so tempting just to stay by the pool sipping the free cocktails, maybe take a walk to the beach, and go on an organised sightseeing trip or two.
What is Glamping?
With budgets impinged by rising prices, getting more bang for our buck is more relevant and especially for our holidays. There is a way to enjoy a luxury holiday in the UK without a luxury price tag. Enter 'Glamping'.
Glamping is basically glamorous camping. It has all the esoteric features of traditional camping - such as being closer to nature, freedom of movement and the fun of doing things for yourself, but the luxury factor has been cranked up more than a notch over the old canvas accommodation that only sees the light once a year.
Glamping usually involves a 'camping pod' rather than a tent. It is a permanent structure, often timber built with sustainability and eco-friendly construction. A pod will typically contain the sort of amenities you'd expect in a hotel including heating, decent mattresses, some kitchen facilities and maybe even a TV (like the pods at http://www.holiday-parks.co.uk/index.php?page=deeside-touring.)
Glamping Facilities
Pods are found on sites of traditional camping set ups. They might be part of an existing park that has static caravans or pitches for tents and touring caravans, but, thanks to the increase in interest in glamping, there are dedicated pod sites being created around the UK.
Attention is being paid by site owners to ensuring that glamping can deliver on the glamour front. Freezing cold shower and toilet blocks are being replaced by modern facilities that have power showers, kitchen facilities and launderettes. Packages might include breakfast in the farmhouse kitchen, and some sites in Scotland even have hot tubs.
Who's Glamping For?
That's easy to answer - everyone! Glamping accommodation suits the whole family including the dog. For the family looking to escape for a week or two, Scotland offers plenty of kid and pet friendly activities. The scenery is fabulous whether you choose to holiday in the Highlands or on the coast. The stunning mountain scenery is soul-lifting and the super-fresh air does everyone a world of good. Many areas of the coast have wild rugged beaches that welcome dogs and with a ball or Frisbee, the kids and pets are set for hours of fun. Visiting one of the multitude of Scottish Islands is a true adventure; as long as the ferry/boat doesn't mind that you've got Rover in tow.
For a luxury holiday without the hassle, or the price tag, this year, go glamping in Scotland.
Lydia Clarke is a travel consultant. She enjoys sharing her insights about affordable holidays through blogging for various websites. Visit Holiday-parks.co.uk for more holiday ideas.