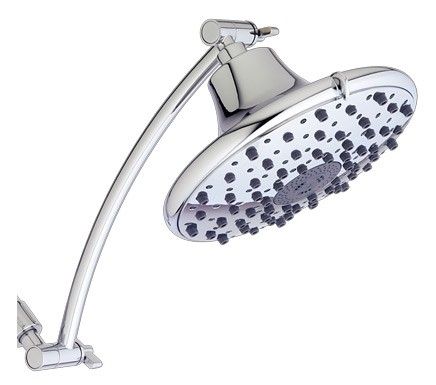 Waterpik
There is nothing quite like the feeling of a great shower. Most luxury hotel bathrooms feature rainfall water showers that give you the same feeling of a luxurious spa experience.
Now, you can get that same relaxed feeling right at home. Introducing Waterpik's RainFall+ showerhead that will instantly transform your bathroom into an oasis.
We recently installed the chrome 8.5" RainFall+ rain shower head that has eight different settings. What makes this shower head so unique is that it takes no time to install and believe it or not, no tools are even required.
Whether you prefer a stationary or hand-held device, the unit can be set up as either (we prefer the stationary setting). Once it is installed (takes less than five minutes to mount), you can select the concentrated Powerspray setting to powerfully rinse shampoo from your hair. The unit also features Waterpik's unique OptiFLOW technology so it delivers up to 30 percent more water pressure.
Other settings include pulsating massage (rain), PowerSpray (rains), drenching RainFall, pulsating rain, pulsating rain + massage, drenching rain + massage, drenching rain + PowerSpray and water saving trickle.
Be sure to check out this custom video created for JustLuxe that features home improvement tips from home expert Cassandra Lavalle, founder of Coco+Kelley: http://www.youtube.com/watch?v=VcyzU2M0ccY.