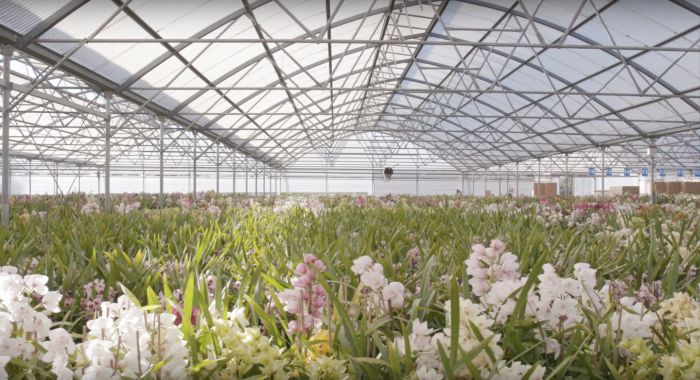 Westerlay Orchids said goodbye to the days of watching its irrigation waters wash away. Inside 7 acres of sophisticated greenhouse operations, where temperature and humidity are closely monitored to create an optimal growing environment, water that does not absorb into the millions of flowers' root systems will now be recaptured and recirculated for the next weekly shower over the exotic sprays of pink, purple and white blooms.
Company Owner Toine Overgaag, an innovator by nature, persistently looks for ways to continue to grow and improve the operation, so last summer he made what was an easy decision for the conscientious farmer. He replaced the ground surface with a state-of-the-art recirculation system imported from Holland. Westerlay has forecasted that this will reduce its water usage by 38 percent, a move that raises the standard for sustainability in an industry that depends on the sometimes scarce resource. The annual savings of 11.2 acre-feet of water compares to eight typical California households.
"We're always looking for ways to improve not just the quality of our orchids but who we are," Overgaag said. "I looked at what a lot of greenhouses are doing back in Holland, we did some analysis, and at the end of the day, it was clear this is absolutely the right thing to do and the direction we all need to be headed in."
Overgaag and his family emigrated from Holland, where regulators have enforced water conservation measures like those launched voluntarily byWesterlay. The design, consisting of a graded ground surface and liners to channel water into a French drain and chute, comes from Dutch company Erfgoed B.V., one of many technological exporters from Holland, the international hub of greenhouse technologies.
Another payoff beyond the conservation of water has been a reduction in natural gas consumption. Channeling the water enables a dryer environment in the greenhouse and requires less heating to maintain temperature and humidity. Westerlay has forecasted it will also reduce its Natural Gas consumption by 11 percent, an amount in terms of carbon footprint is equivalent to taking 29 cars off the road.
Overgaag, who acquired Westerlayfrom his father, Joe, grew up in the greenhouse when it was filled with roses. The 2003 transition to orchids positioned Westerlay to capture much of the market share in the Western region.
"We pride ourselves on producing the highest quality orchids, and that's what our customers have come to expect from us," Toine said. "To be able to deliver on quality standards and environmental sustainability marries the two biggest priorities of our brand."
Westerlay regularly invites the international organization MPS for environmental inspection and certification, to ensure it follows the best environmental practices for sustainability. MPS issued the highest grade to Westerlay in each of the past four years. Overgaag said that while Westerlay regularly reports to local and state regulators, MPS certification goes above and beyond those requirements and ensures that Westerlay will always be in compliance while voluntarily maintaining standards that exceed the letter of the law.
Westerlay was founded in Carpinteria, Calif., in 1978 by Joe and Lucy Overgaag who emigrated from the Netherlands. Starting in 2003, the company transitioned to orchid cultivation and currently operates 21 acres of greenhouses annually producing over 2.8 million potted Phalaenopsis and Cymbidium Orchids that are distributed throughout the Western US and beyond.