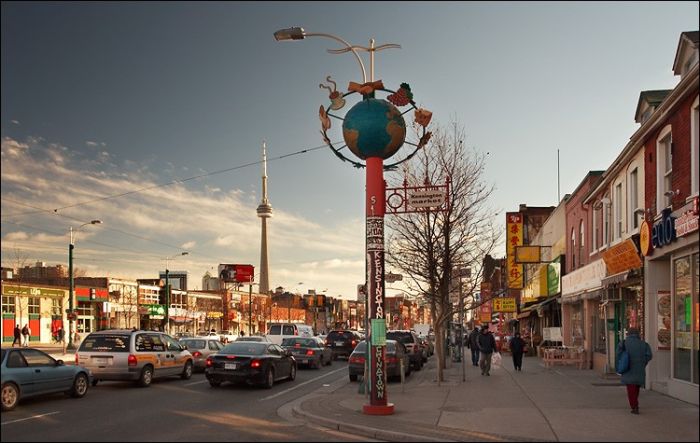 Kensington, West London, is one of the most affluent and cultural neighbourhoods in the city. Nestled close to Chelsea, home to the Kings Roadboutiques and 'yummy mummies', Kensington is where you will find London's French Quarter, filled with elegant patisseries, French bookshops and cafés. The historic area is also home to many gorgeous galleries nestled among its better known tourist attractions, and is a great place to go and browse if you are contemplating purchasing a work of art. A personal recommendation would be the welcoming new Notting Hill gallery, Calken. Find it onKensington Church Street…
Why not take a stroll alongChurch Street, one of the most beautiful, historic streets inLondon? Renowned for its art galleries, this quaint street is at its most beautiful in the summer months.
A great day out for all the family can be had at The Science Museum, with its 3D flight simulation theatre – an opportunity to feel what it's like to pilot an RAF Red Arrow! Or why not cower in front of the giant animatronic T-Rex at theNaturalHistoryMuseum; definitely not for the faint of heart.
The Royal Albert Hall, built in 1871, is one of the world's most beautiful locations in which to listen to a classical concert. Hosting concerts and shows from opera to modern music and contemporary dance, there is something to suit all tastes.
In the summer months, kick back and enjoy a delicious cocktail in Kensington Roof Gardens, with panoramic views over the city ofLondon.Hyde Parkis also nearby and is a traditionally romantic spot for a picnic.
Arty attractions
Shopping in Kensington is a memorable experience, with Kensington High Street andChelsea'sKings Roadfilled with boutiques and designer stores, selling everything from luxury watches to bespoke shoes. It's worth visiting the nearby world famous Harrods department store in Knightsbridge, with seven floors of luxury goods and fashion. Portobello Market, in Notting Hill, is an eclectic, bohemian paradise, with stalls selling a range of jewellery, bric-a-brac and food as well as the renowned antiques market, which takes place on Saturdays.
Eating in the area is always a delight – from French cafés and patisseries to gourmet gastro pubs and Michelin starred restaurants, there is something to tempt everyone!
No visit to Kensington is complete without a glimpse of royal life at KensingtonPalace, former home to Princess Diana. Enjoy a very English Afternoon Tea at The 18th century Orangery, wander the beautifully landscaped gardens, or take a guided tour of the palace itself. One of the most spectacular sights to see is the 'Luminous Lace' light installation at the centre of the palace, created from almost 12,000 Swarovski Crystals and 4km of electroluminescent wire.