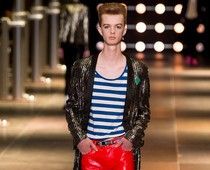 Getty Images
Unless you're a man who's built like a stick and doesn't mind dressing up with pants Barbi would be too bashful to wear, the men's fashion industry appears to have left you behind. With even top designers like Hedi Slimlane and Saint Laurent abandoning all things masculine, the days appear numbered for anything but zebra print eyesores and skinnier pants than is safe for the family jewels.

Just when you think things couldn't get any worse here comes Hedi!

Here's, the deal, there are tons of jackets and hopefully some real pants as opposed to second skin tights like runway pants. If the samples shown the run are of commercial size then anyone above a size 40 is S.OL.
The roach picker shoes are almost comical as is Mr. Slimane's vision which borders on comic strip like if not just plain absurd. Unless of course he was going for the John Travolta, Vinny Barbarino look. Let's now step back to look at the pants or better referred to as legwear as most grown men will not be jamming their legs into these. (Read More)