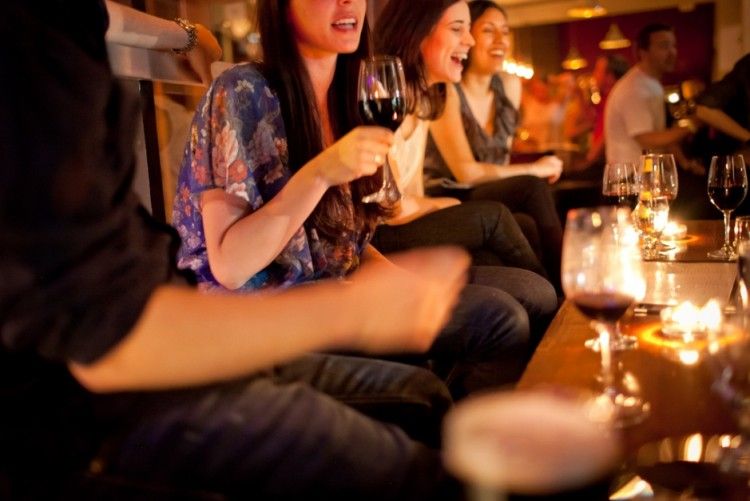 http://www.flickr.com/photos/l
If you have a passion for fine wine or just want to try something new, then these bars should fit the bill. Their dedication to high quality wine is like a love letter to the vineyards they came from and each bar tries to make the act of choosing and drinking wine an experience to remember.
These five bars offer some of the finest wines that London has to offer:
Bar Pepito is just a stone's throw away from King's Cross Station and many London King's Cross hotels, but it's like stepping into Spain. The bar is hidden away down a tiny alley, which leads to a beautiful courtyard. What makes this place unique is that it's the first place in London dedicated to sherry.
There is an Andalucían theme running throughout the bar, which isn't surprising as the area spanning from Seville to Cadiz in Andalucía is the traditional home of sherry. The atmosphere of the place – combined with the highest quality wines and spirits – evokes images of castles on the skyline, flamenco guitars and bull ranches.
Part of the charm of the bar is its size: it's tiny! With only room for 4-5 tables, the bar has an intimate and cosy feel, although there is room to sit outside in fine weather as well.
There are fifteen main sherries on offer, covering all styles as well as 'sherry flights' available for those that want to sample a range of flavours. The bar staff ooze knowledge and enthusiasm for this sweet, fortified wine. It's a great place to come if you are a sherry connoisseur, but also if you are keen to learn more or simply if you want to drink somewhere out of the ordinary.
In London's glittering West End you'll find a small, inconspicuous shop front, which leads to an outstanding basement wine bar.  This is a place for wine-lovers and has a very traditional feel; the walls are decorated with vintage champagne posters which set the tone for a bar that loves wine and takes it very seriously. Their belief is '"in a world full of so much terrific food and wine, why settle for a slab of quiche and a glass of boring plonk?" Why indeed!
Their 24-page wine menu offers over 300 wines and is more like a book than a wine list. Filling the pages of this extensive list are beautiful descriptions which don't actually tell you what the wine tastes like. This is an intentional decision, which is really quite interesting. Instead they are descriptions to entice you into the idea of the wine and what it actually tastes like is up to you.
This bar is like a treasure trove of fine wines. Located beneath their shop in Piccadilly, this award-winning basement bar has an extensive collection of wines from around the world.
As well as the vast selection of wines available by glass, customers can also pop upstairs and choose a wine from their famous department store. It's quite an experience to browse the shop at night – like being in a library for fine wines!
The bar's design is extremely stylish making it a favourite amongst Londoners and a place that is a must for a visiting wine enthusiast.
Situated in Covent Garden, this is a truly special place. Essentially it's a bistro, but The 10 Cases makes wine its main focus. The concept behind the place is simple; they stock ten cases of both white and red wine. When they run out, that wine is replaced by a different wine. This keeps the wine list fresh and unpredictable and it's exciting to know that every time you come back, the selection will be different. 
The 10 Cases favours Old World wines but offers some exciting new additions from the New World, too.
This award-winning win bar offers the finest aged Bordeaux along with an extensive collection of wines from around the world. In total there are over 10,000 bottles in their cellar – so plenty of choice even for the fussiest of oenophiles.
The bar has South African bias, stocking a large amount of wines from this area. Their wine list offers an exciting range but customers can also choose anything from their walk-in cellar. There is also a walk-in cheese room for those after a cheese board – perfect for combining the creamy tang of cheese with the rich, earthy flavour of wine.
Londoners are lucky enough to have two branches of Vivat Bacchus to choose from. You can enjoy their fine wines in Holborn, as well as in the London Bridge area.
This should give plenty of ideas for where to order your next glass of wine. Most of these bars either have a small but constantly changing wine list or an extensive cellar with thousands of wines to choose from – meaning you'll never have the same glass twice.
If you are travelling to London, especially to sample the fine food and wine on offer, try the London hotel finder for an easy way to find a luxurious place to stay in the centre of London.
Do you know of any amazing wine bars in London? Is there anywhere you would recommend to a wine connoisseur?
Gavin Harvey never gets tired of finding secret haunts! He's always searching for new places to visit, keeping his eye open for the finest food and drink available