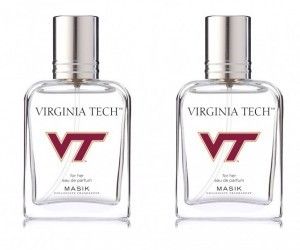 Image via collegiatetimes.com
I suppose the idea isn't as bad as it first sounds. There's something magical about the smell of a fresh book, and maybe – just maybe – The Virgina Tech Bookstore will manage to bottle that magic... but it doesn't sound like it. Instead, it seems the two new fragrances are more of your standard fare dubbed as generically as they could be: "Virginia Tech for Him" and "Virginia Tech for Her."
The Virginia Tech Bookstore has announced that a men's and women's signature fragrance will be hitting shelves in August.
The company Masik Collegiate Fragrances of New York City has been trusted with the task of creating the signature scents of Virginia Tech. Katie Masich, Founder and CEO of the company, says that a lot of research and briefing goes into creating a university fragrance.
"We do research on the school to find out the school colors, the traditions, trees and architecture and then we find out how that can translate to aromatics," said Masich. (Read More)