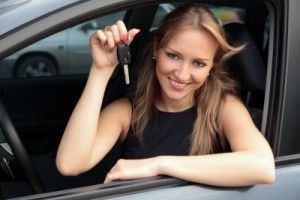 When you graduate from college—or even high school—chances are one thing at the top of your to-do list is to get a new set of wheels.
Unless you are one of the lucky few who receives a new car as a gift, though, you are probably on a budget and don't want to spend too much on your new set of wheels. Once you factor in a monthly payment, insurance, maintenance and fuel, owning a car can eat up a significant portion of your monthly budget.
You have options, though. There are plenty of affordable vehicle brands out there, but one of the best for new grads is Honda. Why? Consider these factors:
Value
Honda's may not be the least expensive cars on the market, but they are affordable and offer great value for the money. Many base models run less than $20,000. In fact, the Honda Insight hybrid has a base price of around $18,000, making it the least expensive hybrid available. Even the base models though, include standard features like airbags, anti-lock brakes and power windows and door locks. These standard safety and comfort features make Honda an exceptional value over lower priced vehicles.
Affordability
This isn't referring to price—although Honda vehicles are certainly affordable. The overall costs to run a Honda, including maintenance and insurance, tend to be lower than other vehicles. And the gas mileage helps younger drivers save on skyrocketing fuel costs. The Civic model, for example, averages 26 miles per gallon in the city and 34 on the highway, meaning you can go much further on a single tank of gas.
Reliability
Any new car is going to be reliable, but Hondas have nearly every other model beat when it comes to long-term reliability. Most well-maintained Hondas run for well over a decade, traveling upwards of 200,000 miles or more. If something does go wrong, though, the overall repair costs tend to be lower than other vehicles.
Drivability
Many Honda owners become lifelong aficionados once they purchase their first Honda vehicle, thanks to the carmaker's focus on making its cars comfortable and fun to drive. Many reviewers point out that Hondas have quick acceleration, good handling, and in the case of some models, sporty looks that make the car a good choice for younger drivers.
Hybrid Options
Many of Honda's models come in hybrid versions, as well as the Insight, meaning that those who want a vehicle that is both eco-friendly and fuel efficient have plenty of options.
Special Incentives
Honda dealers know that these vehicles are appealing to new grads, and as a result offer plenty of incentives to help make the vehicles affordable. AutoFair Honda of Plymouth, for example, offers new grads lower down payments and flexible financing offers to recent college and graduate school graduates. These specials allow new grads to pay for a new set of wheels while also building a positive credit history.
College grads have many decisions to make – and what vehicle to buy is just one of them. Take a Honda for a test drive, though, and the decision is a no-brainer.
This guest post was written by Jerry Lasley. Jerry is an automotive specialist and enjoys sharing his knowledge of the automotive industry.