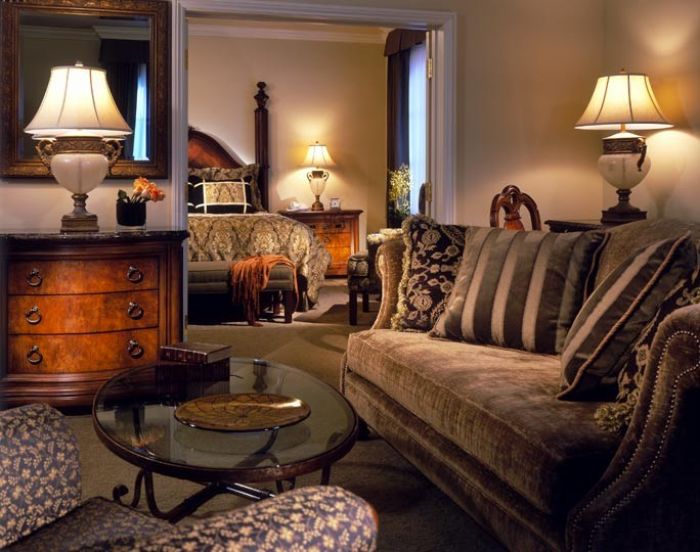 Carleton Hotel
The Wine Country in California is no longer centered on the Napa Valley region. The region in and around San Luis Obisbo, Santa Ynez and the town of Atascadero, where the Carlton Hotel is located. Once the destination of movie stars in the 1920s, the hotel had a storied reputation as a hidden spot on the road nearby the Hearst Castle. Recently rebuilt into a new luxury hotel, the Carleton is a "best kept" secret of this central coast area. Located in downtown ATASCADERO, the hotel is perfectly situated in a valley region a short distance from the Coast and Pacific Ocean. If you drive too fast on the Highway 101, you'll miss it, so look for the signs for downtown Atascadero.
Inside the hotel, the lobby greets you with a beautifully detailed entrance of dark wood paneling and a petite library. The rooms are elegantly outfitted with mahogony furnishings, including large four posted beds with 500 threadcount sheets. The marble and Terazzo bathrooms showcase whirlpool tubs with generous roomy countertops. The two top floor suites are comfortable and spacious with full sized luxurious bathrooms with all the amenities. Windows with views or rear suites with quiet locations throughout the hotel make it a perfect get-away. Hollywood's glitterati arrived here to escape the press and the outside world; you can understand perfectly when you experience the ultra-quiet atmosphere of the town. The old "main street" center is filled with local art galleries, antique curio shops and other charming boutiques. A spa directly next to the hotel features Aveda products and you can breakfast on fresh croissants and scones at the bakery located at Carleton's street side entrance. With a new restaurant to be opened soon, I am hoping for a chef who will prepare wine country inspired specialties using local produce including olive oils, walnuts and other delicious Cental California specialties. The organic grass fed beef at the Hearst Ranch is already well known and this would be another draw on the menu. The "Pleasant Valley" wine trail is quickly becoming a player in the California wine industry. While "Pinot"* is considered the main wine in the region having developed into its mature stages, there are also other wines that are equally strong that are being introduced to the region like Rhone Valley style wines, Syrah, Grenache and Mourvedre, to Italian varietals like Barbera and Sangiovese, to Burgundian varietals and Chardonnay. The regions quintessential American grape, Zinfandel are also grown here. If you are not a wine drinker, don't worry, there is plenty to do nearby: rock climbing, horseback riding, dirt biking, motorcycles, Hearst Castle, and a wonderful year round programs of music, live entertainment and festivals.
For more detailed information on the local wineries, refer to the local "Winepress" magazine at: www.thewinepressmagazine.com.
NOTE: National Awards for the Region center on the Pinot Noirs:
*The top 7 wineries for California Pinots: Laetitia, Brewer, Williams Selye, Sanford, Kosta Browne, Faila, au Bon Climat.
Carleton
Welcoming Lobby at the Carleton Hotel