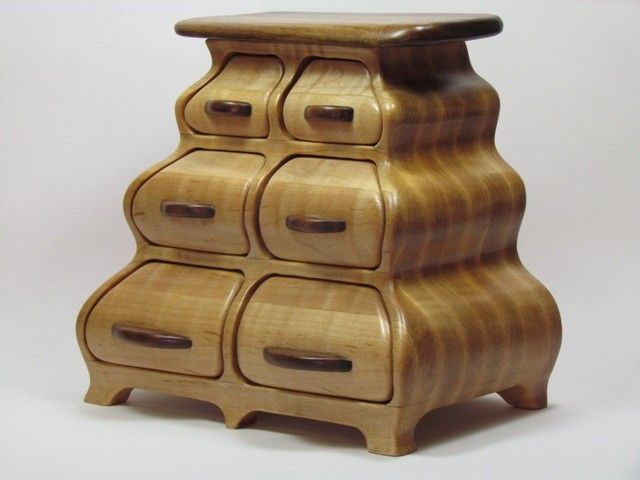 Ramon
Wooden Wows
The word, wow is defined as "expressing astonishment or admiration; sensational success; impress or excite greatly." There is an artist named Ramon who is taking the woodworking industry to another level. He is a master woodworker whose name has become associated with beautiful jewelry boxes. Yet, these are not your average jewelry boxes. The artist designs and creates what he calls "Jewelry Furniture." The jewelry furniture definitely looks like miniature furniture. His creations range from Chaise lounges to a series of writing desks.
A wood creation by Ramon has astonished many people to the point that they seem hypnotized, captured and mesmerized.  Once people see this unusual wood art, their breath is stolen for the moment and the only sound that manages to escape from their lips is the word, wow. 
Ramon's woodworking designs have been repeatedly compared to the Spanish Catalan architect, Antoni Gaudi.  The artist fashions intricate cuts and curves that defy the rules of traditional woodworking.  (He even has a jewelry box called Defiance. The creations are highly detailed, scaled to proportion, and sanded to a silky smooth finish that beckons you to glide your finger around the curves. The artist's use of dark and light wood and domestic and exotic wood gives each piece a hypnotic effect. Each design has its own set of "reach out and touch me" features such as a multi-compartment lift-out trays or nested boxes within a drawer. However, the show-stopping, crowd-pleasing feature that is included in most of his creations is his signature stamp, the hidden drawer.   Ramon calls his creations "Touchable Art" and he encourages his audience to touch it, open drawers and explore. 
The artist's passion and respect for the wood is evident in the fact that he finishes with a light satin hand-rubbed poly.  He prefers less of a shine so that all can appreciate the natural wood grain. Ramon creates heirlooms that will increase in value. He does not repeat a design; therefore, when you invest in a Ramon creation, you will own the original. Each piece has his signature branded in the bottom as well as a carved registration number. Once you have experienced Ramon's Jewelry Furniture, you will always recognize it, you will always want to touch it and you will always find yourself saying, "Wow!"
Ramon
Intentionally Accentuated Jewelry Furniture
Ramon
The Executor Jewelry Furniture
Ramon
The Beautiful Buffet Jewelry Furniture
Ramon
Defiance Jewelry Furniture
Ramon
A feature of Defiance Jewelry Furniture