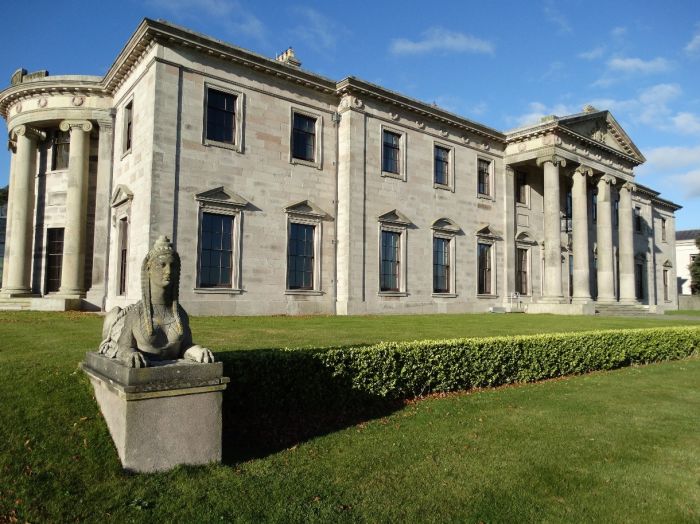 Photo Credit: Whitney Spielfogel
If rest and relaxation tops your list before the upcoming holiday season, consider booking a long weekend getaway and visiting Ireland's most exclusive hotel, Ballyfin. With daily flights from many major US cities to Dublin, it's a hop, skip and a jump away to this heavenly property… and trust me, it's worth it!
After landing at Dublin's international airport, book a rental car and head towards the countryside to get off the grid for a few days. Be prepared to be brought back in time, and treated like royalty, when you check into Ballyfin. Ballyfin is located only an hour and a half away from the airport in a small village in County Laois, Ireland, yet feels worlds away from the hustle and bustle of the big city.
This past Thanksgiving holiday, my husband and I headed to the 20-room restored Georgian home for a bit of reprieve from tableside political talks and an overload of tryptophan from turkey, where we could indulge our mind, body and soul in unparalleled seclusion. Ballyfin is a place of serenity, romance, history and great natural beauty, providing an enchanting retreat from reality and an indulgence in old world luxury.
Photo Credit: Whitney Spielfogel
As my husband and I (finally) pulled up to the Ballyfin house, we half-expected Mr. Carson from Downtown Abbey to greet us. The demesne's mile-long meandering driveway and the private lake in front of the main home created a tremendous vision of grandeur in which the cast of the hit show would have fit in particularly well.
We immediately forgot the frustrating ten minutes of not being able to find the property and instantly felt as if we stepped back in time to the 1800s when English Lords ruled over vast stretches of land and built impressive stately homes to showcase their power and wealth. The Ballyfin house is considered the most lavish regency mansion in Ireland and was recently named 'Best Hotel in the World' by Conde Nast Traveler's 2016 Readers' Choice Awards, a distinction well earned.
While Mr. Carson didn't show up, we were formally welcomed on the grand steps and our bags were whisked away by the house staff. Check in then took place in the Whispering Room, a room titled such because two people standing in opposite corners can hear each other's whispers due to the ceiling's arched construction, which my husband and I were all too eager to test out.
After a quick review of the remaining day's schedule and all available activities, we were lead to the magnificent gold room, where we awaited our afternoon English teas and fresh baked croissants and chocolate chip cookies, the perfect indulgence after our overnight flight from New York. As we waited for our snacks, we took it upon ourselves to explore some of the splendid reception rooms where fires burned and visitors were welcome to sink down into any number of comfortable armchairs and plush sofas. Although we were told that it was a full house during our Thanksgiving weekend stay, guests were rarely seen or heard outside of meal times in the main eating area. It was as if we had this overly impressive stately home all to ourselves.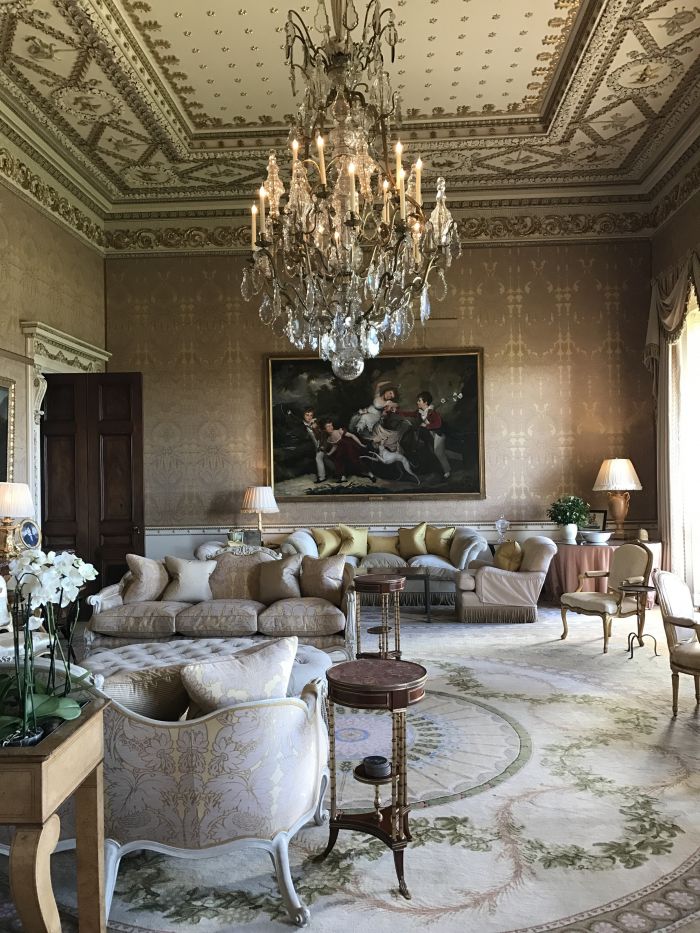 Photo Credit: Whitney Spielfogel
After our quick nosh, it was time to explore the property in all of its splendor. Guests are encouraged to enjoy Ballyfin at their own leisure. Ballyfin offers a perfect opportunity for rest, tranquility and a plethora of outdoor activities. My husband and I started with a walk around the man-made lake to give our legs a stretch after the Red Eye and car ride to the countryside. During our stroll, we passed the estate's grotto, where a falconry demonstration was in session.
Once complete with our nature walk, we returned to the estate for lunch, where we experienced the most mouth-watering onion soup, perfect for a cozy Fall afternoon, accompanied by a light yet flavorful fish and a tasty tender cut of meat that my husband most enjoyed.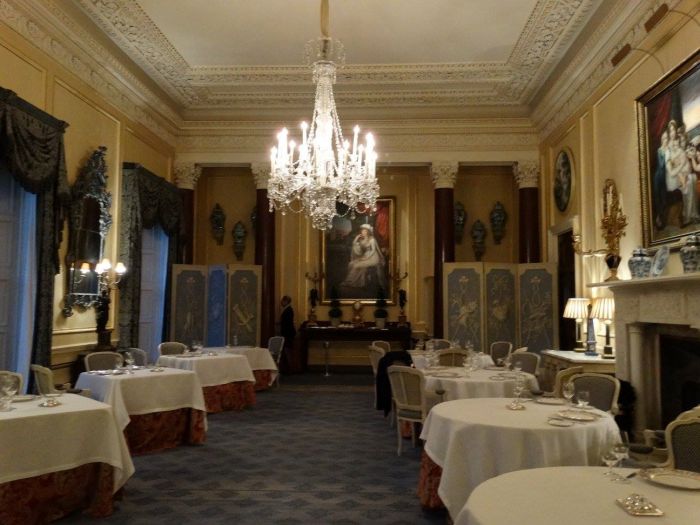 Photo Credit: Whitney Spielfogel
After this very filling lunch, it was then time to participate in yet another activity. We decided to try our arms at archery. There is certainly no shortage of things to do at Ballyfin.Canoeing, biking, falconry, fishing, shooting, tennis, cooking classes, trying on costumes, wine tasting and trips through the grounds in a horse drawn carriage are just a handful of the quintessential country activities that can be enjoyed while at Ballyfin (some are at an extra cost). For a beautiful sunset or sunrise activity, I strongly suggest exploring the walkways towards the 130-foot tower, which overlooks the Slieve Bloom Mountains. If you don't fancy moving around much, one can enjoy cozying up with a book by one of the many fireplaces, indulging in a massage, spending time in the swimming pool or relaxing in the state-of-the art sauna and steam facilities.
At 4pm every day, there's a tour of the main house and it's full of fascinating history (including a stop in the basement's impressive China room display… doesn't everyone need one of these rooms?!). The main house was built in the 1820s and was famed for its elaborate interior design. The Cootes family enjoyed the house for a century employing a large team of servants, allowing the family to enjoy a life of leisure that is well-documented in photographs around the home.In 2001, Chicago businessman Fred Krehbiel purchased the run-down mansion and restored the property to much acclaim.After many years of rehabilitation with great attention to detail, Balllyfin reopened its doors in May 2011.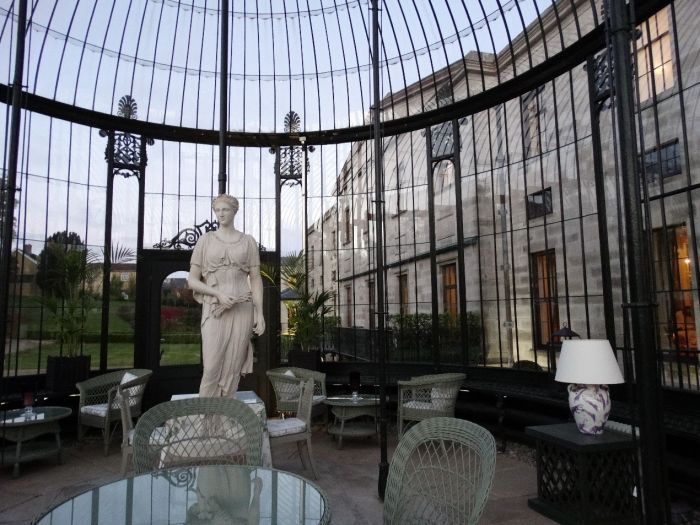 Photo Credit: Whitney Spielfogel
With all that there was to see and do on this splendid property, there was hardly much time to enjoy our well-appointed bedroom (a four-poster canopy bed and gilded mirrors were just the start) with its beautiful antique furniture and vast bathroom before it was time for drinks in the library and a formal dinner in the main dining room.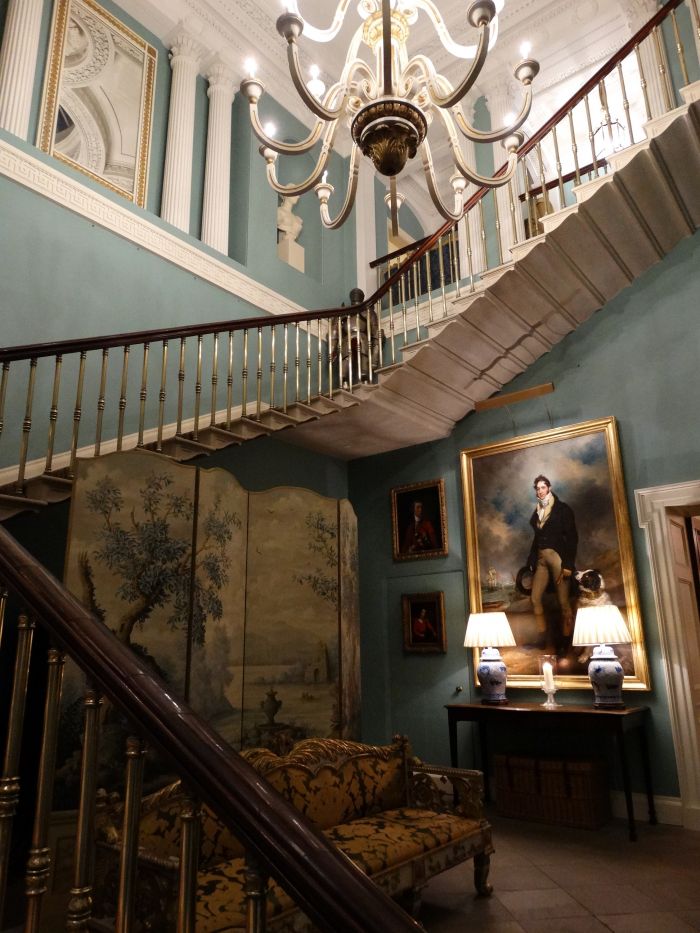 Photo Credit: Whitney Spielfogel
Ballyfin's impressive accommodations and stunning setting are second to none, but what makes this place so special is the quality of staff who care deeply about the history of Ballyfin and make you feel like you are right at home. The staff was super attentive and eager to customize our stay.
Ballyfin is designed for those who want to enjoy a few days of absolute peace and to experience the noble tradition of Irish hospitality. There's an unspeakable beauty and luxury of this stately home, now a hotel, and it seems fair to say this is easily one of the best hotels in the world.
Photo Credit: Whitney Spielfogel
A night's stay includes full board – you arrive in time for lunch, there's tea in the afternoon, a drinks reception and dinner, then a full Irish breakfast the next morning. Nonalcoholic drinks, tea, coffee, snacks and petits fours are all included and you can get your laundry done and shoes polished as well.
Book now for a stay in December since the house will then be closed from January 3rd until February 10th, for holiday. If you can't make it to Ballyfin before the end of the year, this property is a must visit in 2017!