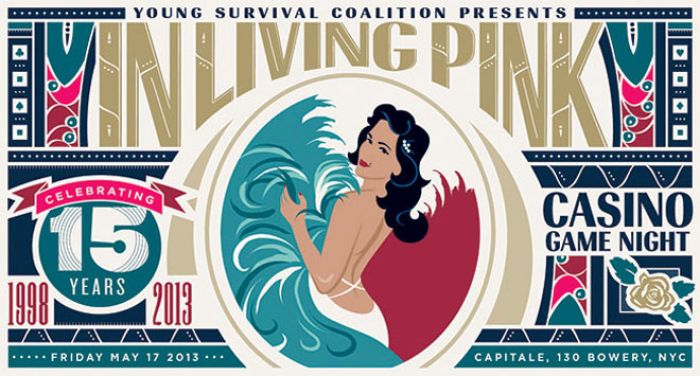 Photo Courtesy of Young Survival Coalition
Gala season has arrived in New York City, topped off with a unique, fun and exciting night of high-end charitable gaming for luxurious prizes to benefit young women affected by breast cancer.
Young Survival Coalition
(YSC) honored its founding members on May 17 at Capitale during the 12th annual In Living Pink Casino Game Night hosted by Chris Wragge of
CBS News
. The glamorous event began at 8 p.m. and the night featured great music, a top-shelf open bar, delicious passed appetizers, a dynamic crowd and the opportunity to support a great cause. Revelers indulged in games of blackjack, roulette, craps and Texas Hold'em Poker. Raffle tickets were sold for prizes like luxurious vacations, a once-in-a-lifetime styling session, donated wardrobe items, accessories, beauty products and a photo shoot all managed by celebrity stylist and designer, Stacy Igel and culminating with VIP access to her Boy Meets Girl New York Fashion Week show.
Young Survival Coalition, founded in 1998 by young survivors for young survivors, provides free programs, education and resources to address every phase of a young woman's breast cancer experience. "Young women with breast cancer face issues that differ from their older counterparts, including more aggressive cancers, fertility challenges, financial instability and higher mortality rates," said Jennifer Merschdorf, CEO of YSC. "The vital funds raised at this event will enable YSC to deliver high-quality national programs and services that address these unique needs." The founding members of YSC took the stage as they were celebrated for their pioneering work bringing issues of young adult oncology to the forefront.