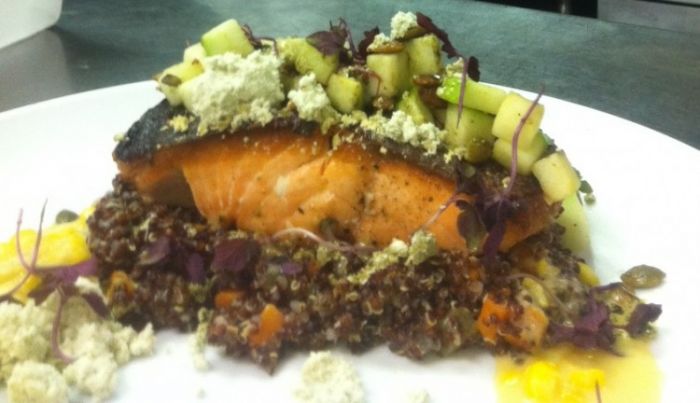 Dining in the suburbs has taken on a new meaning in recent years. Gone are the days when you had to travel into Boston to get a decent meal. Chef Brendan Pelley sits at the forefront of standout suburban dining at Zebra's Bistro and Wine Bar in Medfield. Pelley has taken his expertise working in various kitchens throughout the city like Ken Oringer's Clio and brings his skills to Zebra's where he creates seasonal menus that focus on New England favorites.
Located in the former post office, the renovated space is beautifully designed with warm earth tone colors in a comfortable dining room. The midweek night we visited the restaurant was filled to a near capacity and we were on our way to find out why. Zebra's has their own kitchen garden where they get most of their produce and works with local farmers, fishermen and artesian producers.
We got started with a sampling of the caramelized onion tart, a delicious warm pastry filled with creamy goat cheese and roasted garlic custard complemented by a side petite frisee and radish salad. The potato leek soup was rich and hearty filled with potatoes, melted leeks and crème fraiche topped with fresh chives.
For dinner, we highly recommend by the salmon and sirloin steak. The pan roasted salmon arrived atop awarm salad of red quinoa, pine nuts, red onion and parsley, braised and grilled fennel. The 12-ounce grass fed sirloin steak was grilled to a medium rare perfection and served Tuscan "bisteca" style with creamy parmesan polenta, broccoli rabe and kumquat marmaletta, drizzled with single press extra virgin olive oil and Villa Monodori balsamico. Both dishes paired up well with a bottle of 2010 Chateau Smith from Columbia Valley, Washington.
Be sure to save room for dessert, which changes on a near daily basis. The night we went, we shared the apple cake, the perfect ending to a delicious dinner. Our server also presented us with complimentary caramels with rosemary before we left – another nice touch. The restaurant is already on the culinary map for local foodies but will soon be making national headlines as Zebra's Bistro and Wine Bar has recently been invited to cook a dinner at the James Beard House in New York City in April.
Zebra's Bistro and Wine Bar is located at 21 North Street, Medfield, Mass. For more information, call (508) 359-4100 or visit them online at www.zebrasbistro.com.
Zebra's Bistro and Wine Bar