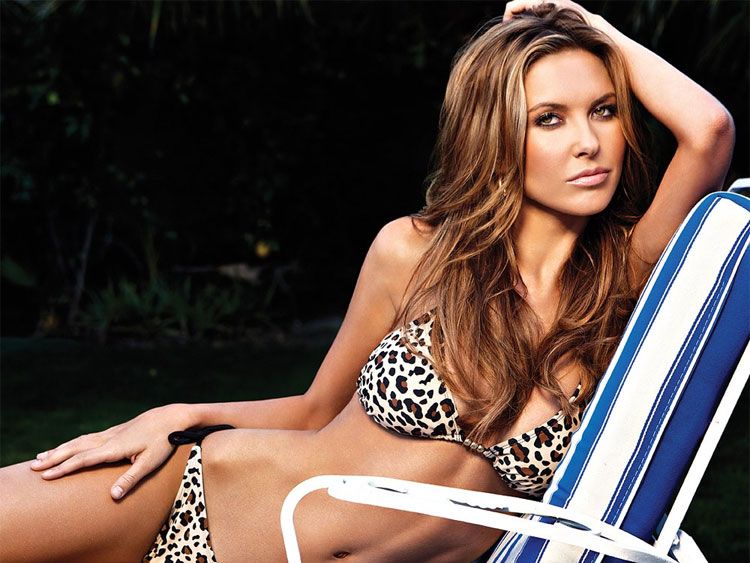 Photo Courtesy of Audrina Patridge
Not too long ago,
Audrina Patridge
was making
celebrity news
for her stint on the MTV reality series
The Hills
, where she, Lo, and LC got together to gossip about everything going on in their lives, from guys to their budding careers. In the process, her effortless "California girl" style became envied by viewers across the country. These days, Audrina is making waves as a style guru, and today she spoke with me to dish on her top fashion and beauty tips for making a smooth transition from winter to summer.
Photo Courtesy of Curve Appeal
For starters, Audrina suggests slowly incorporating the fun graphic prints of spring into your transitional look. From florals to stripes to tribal patterns, your options are endless when it comes to choosing a print that fits your personality. "All the patterns are just so cute this season," Audrina said. "You could wear a patterned top with just jeans or a skirt and it will give you great style without even trying," Audrina's favorite way to wear patterns is to discretely sport a graphic on the front or back pockets of high-waisted shorts, a garment she calls a staple in her summer wardrobe. "I wear those with a cute crop top or a onesie underneath. Just add some ankleboots or wedges with a cute hat and long necklaces, and you're good to go!"
But there's a fine line between mixing and matching patterns in the spring— a lesson that Audrina learned the hard way by clashing on the Red Carpet in the early days of filming
The Hills
, before the thought of having a stylist was even possible. "I wore this dress that was hot pink and turquoise with a weird pattern and zebra print," she said, laughing at herself. "Now I look back on that and wonder, 'What was I thinking?!' Nothing matched, not even the shoes!"
Photo Courtesy of Curve Appeal
As for makeup, Audrina's cosmetics bag is just as mix-and-match as her closet. Like many of us, she has two different foundations designated for the winter and summer. "But right now I'm at that in-between stage where I'm not too light and not too tan," she told me, "So I'm kind of mixing the two to achieve the fresh spring look that I'm going for." Once it's time to hit the beach and the pool, Audrina keeps her makeup light but her skin protected. "I always wear a lipstick or gloss with SPF, but besides that just waterproof mascara and bronze eyeshadow to give me more of a glow."
"But it's not just about how you look and how you're makeup is done, you have to smell good too," said Audrina, who divides her time as a socialite, a fashionista, and a brand ambassador for
Curve Appeal
. "You want to make a lasting impression when you meet someone, and if you smell good they're going to remember that."