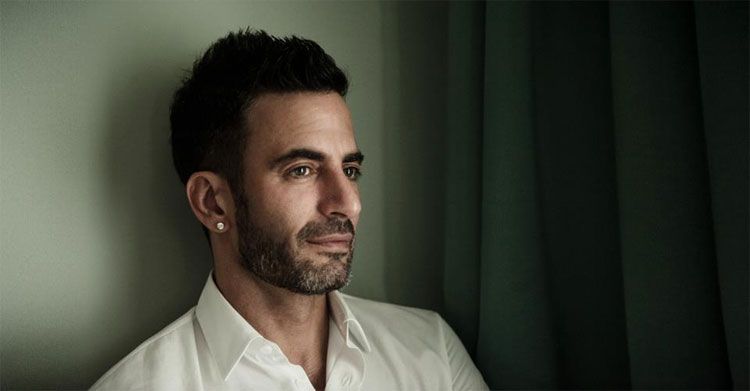 Photo Courtesy of Marc Jacobs
Marc Jacobs
Born:
1963, New York City
Best Known As:
The co-founder/designer of Marc Jacobs and the creative director for Louis Vuitton
You've heard of Marc Jacobs, obviously— his name has been sprinkled throughout nearly every fashionista's closet since the early '90s. Best known for his eponymous label Marc Jacobs, his diffusion line Marc by Marc Jacobs, and his 16-plus year reign as creative director at Louis Vuitton, Marc Jacobs has become a household name for fashion-forward men and women alike. With a significant rise to fame over the last couple of decades, you'd think that the designer has it all. But truth be told, Jacobs didn't always have it easy.
Born in New York City in 1963, Jacobs' stable life was shaken up at age seven when his father died of ulcerative colitis (a condition that Marc himself also suffers from) at the young age of 32. His mother, who did not deal well with the tragedy and who Jacobs has described as "mentally ill" to
The New Yorker
, would go on to remarry three times, uprooting her three children and moving them from New Jersey to Long Island and then the Bronx with each marriage.
Photo Courtesy of Marc Jacobs
Eventually, seeking stability and support, Jacobs moved in with his grandmother in New York City's Upper West Side. A lover of luxury, world travel, and beautiful things, Jacobs has credited his grandmother with encouraging his creativity and allowing him to explore an uninhibited side. "I always say I lived my life with my grandmother," the designer told Amy Larocca of
New York Magazine
. "She was emotionally stable, and she was very encouraging to me." Unfortunately, when she died in 1987, it was the last meaningful family relationship he'd have to this day. Of his siblings, Jacobs has said that his brother and sister didn't want much to do with him, a feeling that was reciprocated by Jacobs himself.
With Donna Karan, 1989. Photo Courtesy of Marc Jacobs
But aside from providing a balanced home environment, perhaps the greatest thing his grandmother offered Jacobs was the encouragement and support to explore his true self. "No one ever said no to me about anything," he told
The New York Times
. "No one ever told me anything was wrong. Never. No one ever said, 'You can't be a fashion designer.' No one ever said, 'You're a boy and you can't take tap-dancing lessons.' No one ever said, 'You're a boy and you can't have long hair.' No one ever said, 'You can't go out at night because you're 15 and 15-year-olds don't go to nightclubs.' No one said it was wrong to be gay or right to be straight."
Photo Courtesy of Marc Jacobs
By the age of 15 he was working as a stock boy for the upscale clothing boutique, Charivari, in New York City after attending the High School of Art and Design during the day. Between the minute tasks of folding clothes and dressing mannequins, Jacobs was able to build his portfolio by designing sweaters for the store— a project that helped with his acceptance to the prestigious Parsons School for Design. At his 1984 graduation from Parsons, Jacobs won the esteemed Perry Ellis Gold Thimble Award and Design Student of the Year Award. The attention he received won him a contract with Sketchbook for Reuben Thomas, for whom he designed his first collection.
Perry Ellis 1992 Runway. Photo Courtesy of Marc Jacobs
1986 saw Jacobs' first collection bearing his own name, and just the next year he became the youngest designer ever to win the fashion industry's most coveted award: the Council of Fashion Designers of America's Perry Ellis Award for New Fashion Talent. Subsequently, he was appointed to the position of creative director for the company after Ellis's death in 1986. He took home the Council of Fashion Designers of America's Women's Designer of the Year Award in 1992, but when he sent a "grunge" collection down the traditionally sleek Perry Ellis runway that year, he was promptly dismissed from the company.
Photo Courtesy of Vogue
The offbeat, edgy collection delighted some
Vogue
featured an exclusive editorial called "Grunge and Glory" in its December 1992 issue, shot by Steven Meisel. But it outraged just as many others. The media had a hay day, but Perry Ellis executives ultimately decided that consumers wouldn't shell out big bucks for clothes that looked inexpensive— and they weren't the only ones. "If it's so chic to look grungy, then why isn't it chic to eat rotten chicken?" Isaac Mizrahi is quoted as saying in the March 1993 issue of
Harper's Bazaar
. "Now, excuse me, I am offended by people who look ugly. Offended! And some designers are jumping on this bandwagon, trying to make people look ugly. And I think that is WRONG." If only Mizrahi had known then what we all know now about Jacobs' part in revolutionizing the fashion market for the exact reasons he complained to
Harper's
about 20 years ago.
Photo Courtesy of Marc Jacobs
After his firing from Perry Ellis, Jacobs refocused his efforts on his own label, and he and long-time business partner Robert Duffy, under their brand Jacobs Duffy Designs Inc., launched their own licensing and design company called Marc Jacobs International Company, L.P. Within a year, Jacobs would design and produce his first full collection of menswear. Under his own label, Jacobs was truly able to explore and experiment with his own aesthetics.
Photo Courtesy of Marc Jacobs
Comparing himself to the likes of Tom Ford and Gucci, Jacobs admits that his designs are more inquisitive and "psychological" than the societal view of what's sexy. "There's a first-degree no-brainer definition of what's sexy, but the reality of it is, what I find more interesting is someone who is more introverted or mysterious," he told Larocca. The result is a database of contemporary streetwear with a tendency of putting a fresh spin on vintage looks. The "Marc Jacobs Girl" can be seen in the likes of the grainy, off-beat campaigns for the label that feature young, hip stars— a true expression of Marc's vision, which differs from the sleek, polished campaigns he produces under the Louis Vuitton label.
Photo Courtesy of Marc Jacobs
Today, the campaigns feature young starlets like Elle Fanning, but back when Jacobs was getting his start, he chose alternative women like Sofia Coppola, Winona Ryder and Sonic Youth frontwoman Kim Gordon, to front his collections. Of Jacobs, Gordon, above, told
New York Magazine
: "Marc always says, 'I'm not cool, I'm a nerd, blah blah blah… It's very hard to really be authentic or make deep creative products if your foremost thing is being really cool. You have to have a full range of emotion, and Marc has that."
Photo Courtesy of Louis Vuitton
Having won over the type of stylish men and women who are always on the verge of the "next big thing" in fashion, Jacobs was tipped off by Anna Wintour to Louis Vuitton chairman Bernard Arnault in 1997, who appointed him to creative director of the company in hopes of revamping what was at the time just a leather handbag and luggage company. It's hard to imagine the 158-year-old multi-billion dollar fashion house as anything less than it is today (or has been for the last 15 years,) but the truth is that Jacobs produced the label's first ready-to-wear clothing line and resurrected Louis Vuitton from the ground up to turn it into the global powerhouse as we now know it. (For numeric measures, Jacobs quadrupled the company's profits in only 10 years.)
Photo Courtesy of Mark Jacobs
Unfortunately, nightly heroine, alcohol and cocaine binges fueled— but also had the potential to ruin— the energy that Jacobs was able to put into the massive responsibility of conceptualizing, designing and producing collections for two labels: the established luxury French fashion house and his up-and-coming namesake. After years of debauchery, including falling asleep at work (that is, if he even showed up) and even getting thrown off airplanes, fashion authorities like Anna Wintour and Naomi Campbell apparently urged Duffy to intervene (according to
New York Magazine
,) and the long-time loyal business partner finally persuaded Jacobs to go to rehab in 1999. He experienced a relapse in 2007 (for which he re-entered rehab,) but thankfully, the designer has been clean ever since.
Photo Courtesy of Marc Jacobs
After re-emerging from rehab clean and in control, Jacobs surrounded himself with his work and continued to achieve success at Louis Vuitton and his own label. Marc Jacobs has grown to include three lines: for men, women, and children, and he's also licensed his name to perfume and accessories. Unsurprisingly, more awards and achievements have followed: The Council of Fashion Designers of America named him the Menswear Designer of the Year for a second time in 2002, and Accessories Designer of the Year in 1998/99, 2003 and 2005. In 2007 he renewed his contract with LVMH for another decade, and his most recent accomplishment includes becoming the creative director for Diet Coke, a job that only seems like an organic career extension for the caffeine and nicotine-fueled designer.
With Karl Lagerfeld. Photo Courtesy of Marc Jacobs
But his dream job? That one's easy. "Chanel would be the scariest job in the world to get, but it would also be the coup de grâce," he said in the
New York Magazine
article. I'd be scared to death and thrilled, but it's the only thing I'd love to do other than what I'm doing right now. If that's all that's left, then that's not such a bad thing. Karl's [Lagerfeld] the perfect person for the job, and he's not going anywhere, but if there's anything that tickles me behind the ear every once in a while, that's it. That's the only, the ultimate, thing."