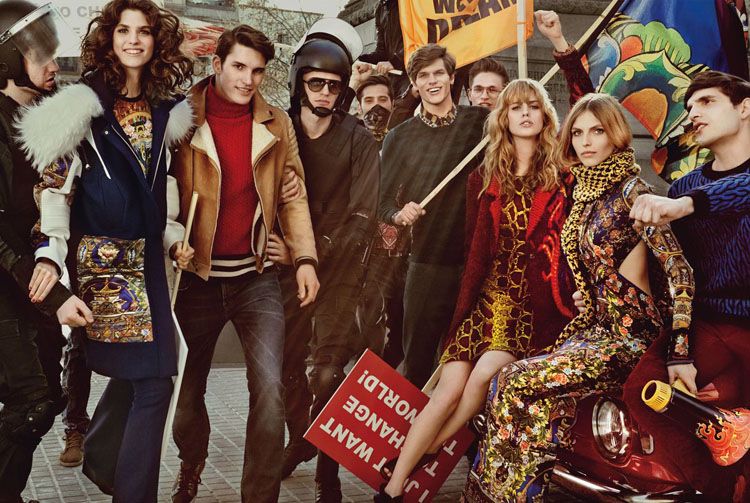 Photos Courtesy of Just Cavalli
Just Cavalli's
new Fall/Winter 2013-2014 campaign images capture the "love revolution" message that Cavalli is trying to send out. Amid a peaceful and brightly colored protest, the clothing pops in a sea of colors and patterns; though beautifully done it's easy to see how the images could stir up a bit of controversy. The models (which look all too happy to be at a march) are meant to be leading the "fight against the conformity of a grey-colored world."
Photographed by Giampaolo Sgura in Barcelona, Spain the images come at a sensitive time, the campaign video of the photo-shoot being released just a month after the
violent protests
in the same city. While they may not be intended to cause controversy, they are certainly being received with mixed reviews.
Cavalli is known for his prints, colors and textures; the fashion house has also created a fuss with its ads earlier
this year
. While the campaign is causing a bit of a backlash on
the web
, the beauty of the designs are not to be denied. The bright yellows and oranges are in direct opposition to any other winter collection and the mash-up of prints and textures would make a bold statement in any outfit. Even with rich autumn hues and visually stunning fabrics, the collection can't quite offset what could easily be interpreted as an inappropriate fashion campaign.