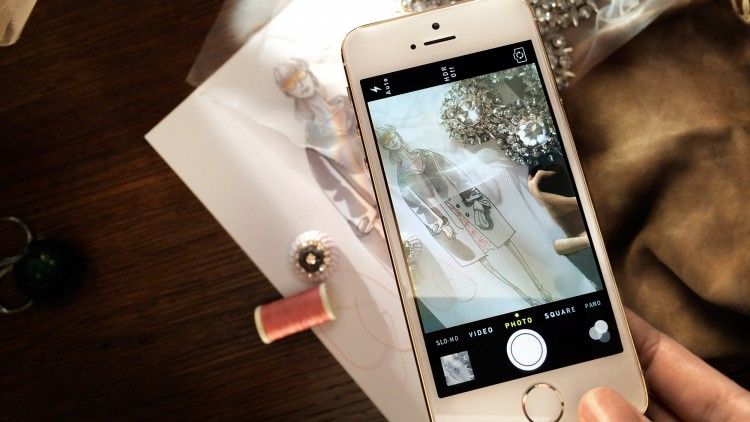 Photos Courtesy of Burberry
Inspired by shared values of design and craftsmanship, Burberry is collaborating with Apple to exclusively use the new Apple iPhone 5s to shoot and show photos and video images from this week's Burberry Prorsum Spring/Summer 2014 runway show at London's Hyde Park.
This association ensures that the iPhone 5s will be viewed as the most fashionable phone in the world, thanks to its impressive camera features: 8 pixels, a double flash, a slow-motion option for capturing video and a "burst" function that shoots 10 frames a second. With the iPhone 5s' improved image quality, Burberry is confidently shooting high quality photos and video for runway and beauty looks, product details, and backstage moments. The pairing of technology and style signifies a shift in Burberry's methods of engaging consumers, paving he way for significant changes in how they capture and share their content.
 "This collaboration celebrates our relationship and shared foundation in design and craftsmanship," says Christopher Bailey, Burberry Chief Creative Officer of the Apple project. "We have a mutual passion for creating beautiful products and unlocking emotive experiences through technology, which has made it intensely exciting to explore the capabilities of iPhone 5s. We're inspired by what this could mean for the future as we continue to explore the merging of physical and digital experiences."
Through photos and video shot exclusively on iPhone 5s, consumers globally can view the Burberry runway show and related activities via Burberry's social media channels and website. Immediately following the September 16 runway show, Burberry customers can then enjoy an exclusive opportunity to purchase items from the Spring 2014 collection. Through September, each piece will be handmade to order, and can be individually personalized with a bespoke nameplate. Also following the show, Burberry will offer a limited edition set of six nail polishes.
Through retail outlets including Apple, iPhone 5s will be available in the US, Australia, Canada, China, France, Germany, Hong Kong, Japan, Puerto Rico, Singapore and the UK on Friday, September 20. It will be sold in three colors—gold, silver or space gray—and three models—16GB, 32GB and 64GB.