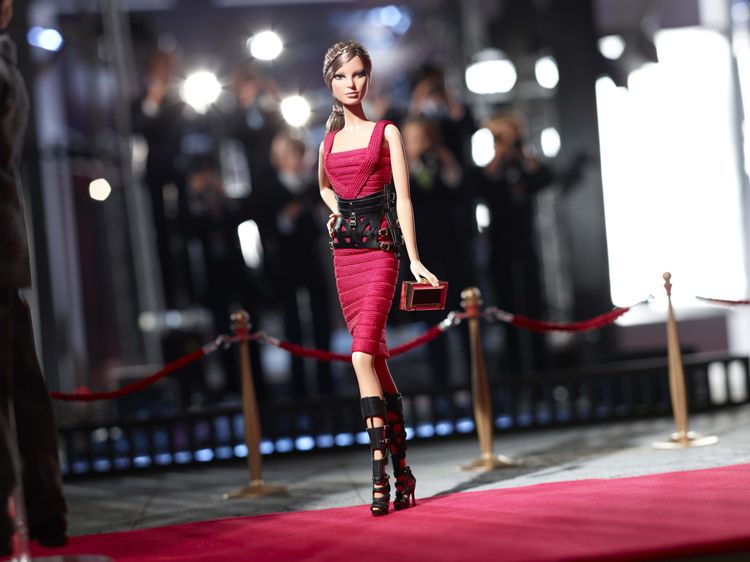 Photos Courtesy of Hervé Léger by Max Azria Barbie®
Barbie was not this cool when I was a kid. Yes, she had a three story mansion, a white Ferrari and her own rock band, but a designer closet? Hardly. She had
piles
of clothes but the closest thing she owned to a designer dress was the blue ball gown I nabbed from my sister's Cinderella doll. (If she asks, I haven't seen it.) Point being, she was obviously living the life of the rich and famous, so why was she stuck in glittery spandex and crop tops?
Barbie is a fashion icon for girls of all ages, and so
Hervé Léger by Max Azria
has partnered with Barbie to give the fashion icon the revamp she deserves. Designs from the Fall 2012 collection were reimagined just for her, and manufactured in the same factory that produces their runway pieces. The doll will sport a cranberry bandage dress with a black corset harness belt, gladiator boots and gold clutch, and will include a second outfit—a black and white jacquard dress, open-toe booties and a black studded clutch—just in case you want to take her out and play dress up. (Something I'm surprisingly likely to do.)
"Deciding how to dress Barbie was such a hard decision because we knew it had to be classic and timeless. We went with an iconic bandage dress in a scarlet red. We also wanted her to have an aspirational look, so we included a look from our Runway collection" Lubov Azria, CCO of BCBG Max Azria Group explained. In all honesty, this style will likely no more stand the test of time than my Barbie's '80s metallic evening gowns, but for the right collectors it's not necessarily the look that matters, but the collaboration of two longstanding fashion icons.
For lovers of both Hervé Léger and Barbie, this doll is easily a must-have, merging your first memories of fashion with pieces you love now. Hervé Léger will also offer identical life-size dresses and accessories so you can match with your new Barbie. The doll hits stores in October right before the holiday gift buying rush, and while I'm no longer an eight-year-old girl, this Barbie doll is going on my wishlist this Christmas.
The Hervé Léger by Max Azria Barbie doll will be available in October 2013 at select Neiman Marcus and Hervé Léger retail stores as well as
BarbieCollectors.com
. Priced at $150.