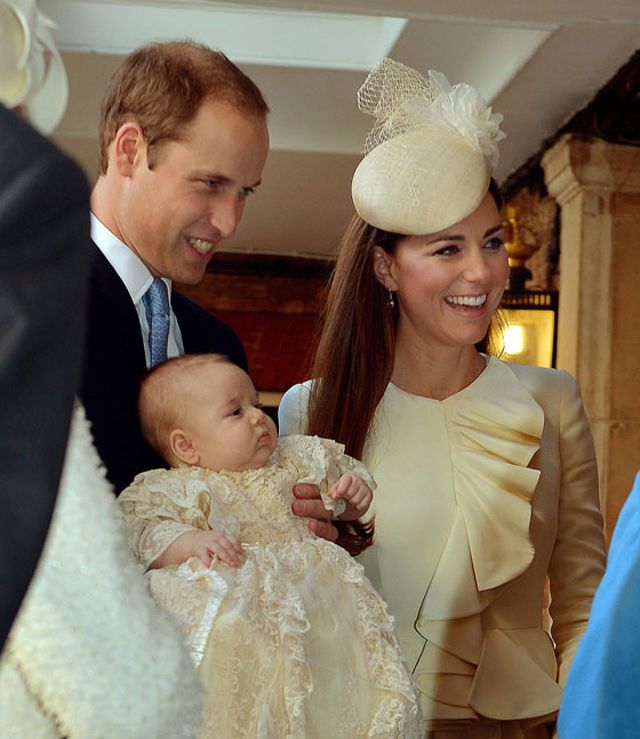 Photos Courtesy of The Duke and Duchess of Cambridge
Maybe it's wrong to say we're fans of the royal couple Kate Middleton and Prince William—obsessed is probably a better word. We admit our faces were glued to the television when Kate walked down the aisle in that unforgettable Alexander McQueen wedding dress and yes, we confess we stalked their website, twitter and every form of social media outlet that we could to find about the birth of Prince George. The couple is adorable, the baby is adorable—how could we help ourselves? So when we found out Prince George's christening was today we, of course, marked our calendars.
The event took place at 3 PM at The Chapel Royal, St James's Palace and the little prince was christened by The Archbishop of Canterbury, the Most Reverend Justin Welby. The future King arrived in his father's arms and Prince William reportedly told the press "this is the first time he's been quiet all day." The Duchess of Cambridge arrived in a white bespoke Alexander McQueen dress and matching hat by Jane Taylor, but even her dress seemed simple in comparison to her son's christening gown. Prince George wore a cream, almost floor-grazing replica of a christening gown made for Queen Victoria's Eldest daughter in 1841.
Kate Middleton's family was in attendance as well as The Queen, The Duke of Edinburgh, The Prince of Wales, The Duchess of Cornwall and Prince Harry, the latter of whom, along with Pippa Middleton, gave lesson readings at the christening. Two hymns were sung by The Choir of Her Majesty's Chapel Royal, the same choir that performed at Their Royal Highnesses' wedding. The Prince will have seven godparents including Mr. Oliver Baker, Mrs. David Jardine-Paterson, Earl Grosvenor, Mr. Jamie Lowther-Pinkerton, The Hon. Mrs. Michael Samuel, Mrs. Michael Tindall and Mr. William van Cutsem.