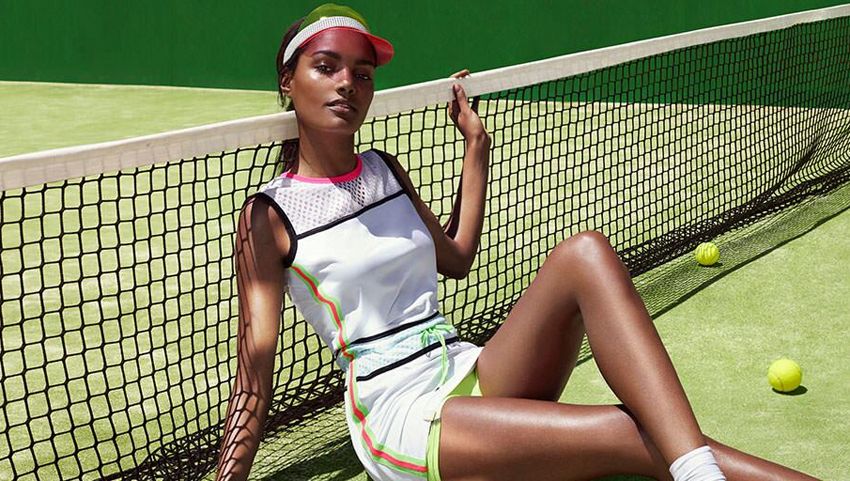 Photo Courtesy of Net-A-Porter via Twitter
Sweating. Grunting. Cursing. We'll be honest, working out is not the chicest activity in the world. Sure, television might portray gym bunnies casually gliding along on their elliptical machines with not a care in the world, but staying fit it never that gorgeous. Luckily Net-A-Porter is coming to the rescue—sort of. While they won't make your hours at the gym as fun as a day of online shopping, they are looking to make it a bit more fashionable with the opening of a new online retailer: Net-A-Sporter. Aside from the cute name, the new site is slated to have a full offering of luxury sportswear and goods so you can look good on the court and when you're just posing for an Instagram shot.
Launching July 9, Net-A-Sporter will play host to brands like Nike, Stella McCartney for Adidas and Lucas Hugh, and cover everything from tennis skirts to yoga mats. At launch we can expect to see "a mixture of accessible and luxury sports brands. It was important to us from the beginning that the pieces themselves were not only performance-based but that they could also be incorporated into our customers' personal style," Net-a-Porter president Alison Loehnis told The Telegraph. "We know that a lot of women are exercising and heading straight from their yoga or ballet class to breakfast with friends without changing. With this in mind, we have developed a category called 'après sport' designed for those who want to look incredibly stylish after their workout." In addition to brands we already know and love they will be premiering new brands across 11 sports including golf, dance and swim.