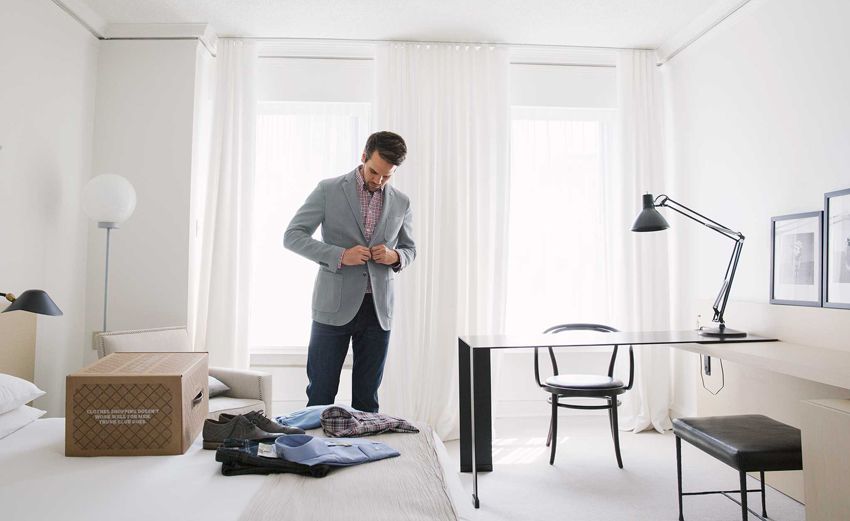 Photo Courtesy of Trunk Club
For years guys have been getting the short end of the stick when it came to shopping. The men's department is smaller, the selection is limited and the customer perks like personal shoppers and stylists can be virtually nonexistent. But with the upswing in men's fashion thanks to bloggers and trendsetters, guys are seriously jumping on the style bandwagon—and companies are starting to take notice. Nordstrom has just acquired the personal shopping service Trunk Club—a startup that works exclusively to bring the latest and greatest fashions to men's doorsteps.
Trunk Club has been in business for five years working to "simplify and personalize the shopping experience for men." Now they'll being doing so with the backing of Nordstrom, who seems interested in growing the small business and using it in conjunction with their own services, rather than absorbing it as an extension of their own department store. And this is certainly not the first e-commerce startup Nordstrom has worked with. They invested in Bonobos, bought HauteLook and have been consistently working to up their online presence with these businesses and a shopping website that is a favorite for web-savvy shoppers.
While the details of the acquisition won't be released until August 14 with Nordstrom's second quarter earnings, they will undoubtedly increase the number of Trunk Club's current 250 personal shopper team and try to refocus and rebrand to expand their digital presence. On the Trunk Club site CEO Brian Spaly states that he believes "Nordstrom is the perfect partner to strengthen Trunk Club's ability to deliver on our service mission to you, our members." He adds, "Nordstrom and Trunk Club share a philosophy dedicated to excellence in customer experience and we couldn't be more thrilled to pursue that mission together."