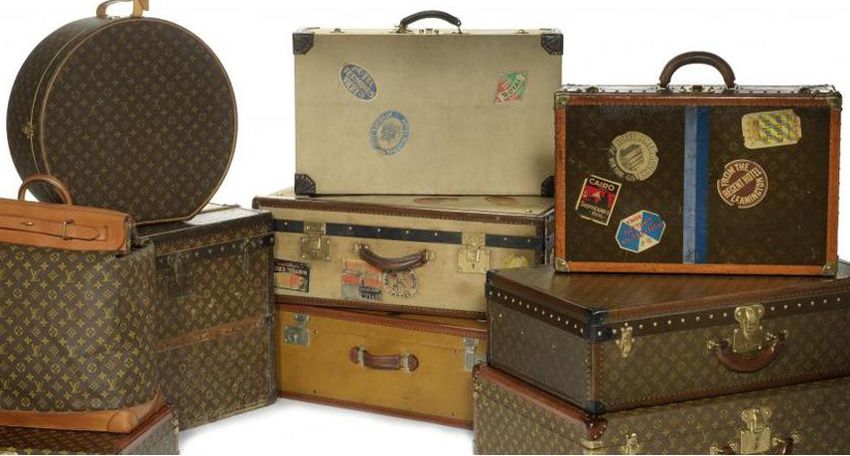 Photo Courtesy of Bonhams
Do you find that your luggage is a little lacking? Maybe that super cute rolling set you bought before the holidays last winter is starting to look a little boring—or even worse—like everyone else's suitcase. Remember the days of chic travel? Luxurious trunks labeled with exotic locals and undiscovered continents? Neither do we, but Hollywood sure makes it look good. To recapture the beauty and adventure of global travels, we're dying to get our hands on some authentic, vintage luggage—but it looks like only a select few will be able to do so. This September Bonhams, one of the world's largest fine art and antiques auctioneers, will be offering pieces from Moynat, Louis Vuitton and Hermès circa 1910-1960, estimated to bring in from £600- £1,400 (approx. $995-$2,321).
"It's stylish nostalgia," said Toby Wilson, Bonhams Head of Automobilia, "vintage luggage evokes images of exciting holidays in exotic destinations, when the golden age of travel was full of charm and mystique. Bonhams Goodwood Revival sale showcases these glamorous classic luggage pieces, with a style that that never grows old. The history and iconography behind such items as the 1930s Hermès suitcase, or the 1960 Louis Vuitton Steamer Bag, is something not to be found in modern wear, making them a highly coveted style statement, available to the highest bidder!" And with your Céline and Proenza packed neatly into early 20th century luggage, even traveling first class in a private jet will seem too ordinary—best to book yourself a ticket on steamer next time you plan to travel the Egyptian Nile or jungles of the Amazon.