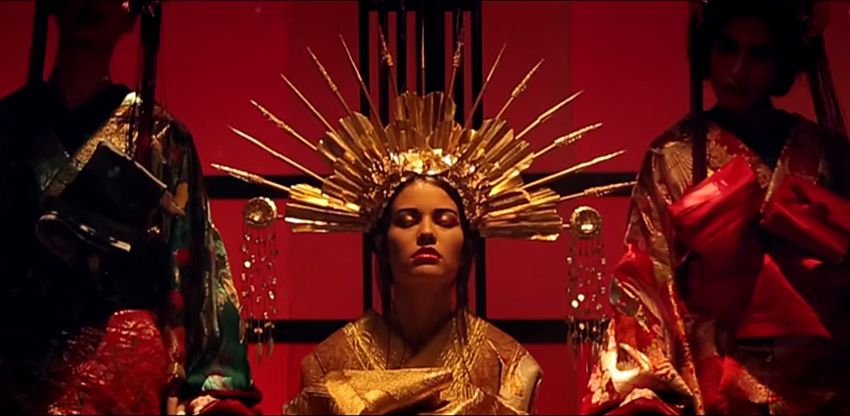 Screen Cap
{start-jlvideo}1809,640,361,thumb{end-jlvideo}
In fashion no one can beat out industry titans like Fendi, Gucci and Prada—except that one little brand just did. At the 2014 La Jolla International Fashion Film Festival, beauty brand NuMe won two awards for their piece Kiss of a Siren—one for Best Film and the other for Best Costume Design, which in fashion, is basically everything. The directors Miguel Gauthier and Viktorija Pashuta, are award-winning film-makers that have won numerous accolades worldwide. Working with a team of the top stylists, hairdressers and makeup artists in the business, the short was nominated for a total of eight awards including Best Hair, Best Makeup, Best Director and Best Film.
"To have NuMe's first film premiere at the world's largest gathering of fashion filmmakers was incredible," said Gauthier, who also serves as NuMe's Creative Director. "We feel truly honored to have beat out iconic brands like Fendi and Gucci." Through changes in location, hair, costume and makeup, the beauty brand wanted to express the four elements of water, earth, fire and air, and needed visionaries that could work together to convey each aesthetic. "We had the best of the best from the industry helping us," said Viktorija of the set team. "NuMe wanted to make sure the visuals really matched the beautiful nature of the story we were telling."
Drawing on the centuries old tales of mermaids whose veins run with pure blood gold and whose kiss is deadly to anyone she doesn't love, Kiss of a Siren tells the story of her quest to be with the man she loves. With an evil queen hunting down mermaids for their golden blood, the secret to eternal beauty, this is far from a cheerful Disney fable. But in only eight minutes the film ties the elements together well, blending both storyline and design into a beautifully crafted masterpiece, that, admittedly, we watched several times over—and it's likely you will too.